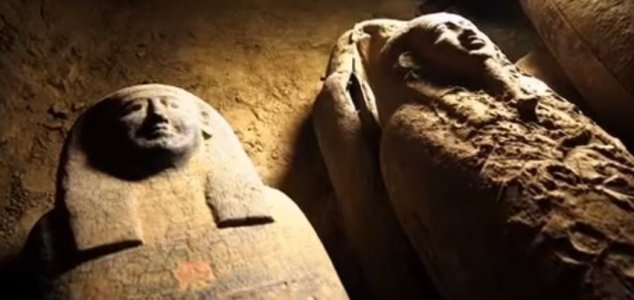 Image Credit: Facebook / Egypt Ministry of Tourism and Antiquities
Archaeologists have discovered 13 ancient Egyptian coffins that have remained untouched since antiquity.
The remarkable find, which was made at the ancient desert necropolis of Saqqara, is particularly noteworthy because the coffins are all sealed - meaning that they have remained undisturbed by looters and should, in theory, still contain all the original burial items and valuables that were placed alongside the bodies when they were interred some 2,500 years ago.
The coffins were found in a burial shaft 36ft underground and were stacked on top of one another.
According to Khaled Al-Anani - Egypt's Minister of Tourism and Antiquities - it is very likely that there are even more coffins buried in the shaft, just waiting to be discovered.
Saqqara itself served as the necropolis for Memphis - the capital of ancient Egypt - and contains bodies interred over an extended period of more than 3,000 years.
Not all of these were noblemen either - some were middle and working class individuals.
When the newly discovered coffins are opened, it is hoped that any grave goods found inside will help to reveal more about who these individuals were as well as their standing in Egyptian society.
Further updates on the find are expected over the coming weeks.
Source: Science Alert | Comments (5)
Similar stories based on this topic:
Tags: Egypt