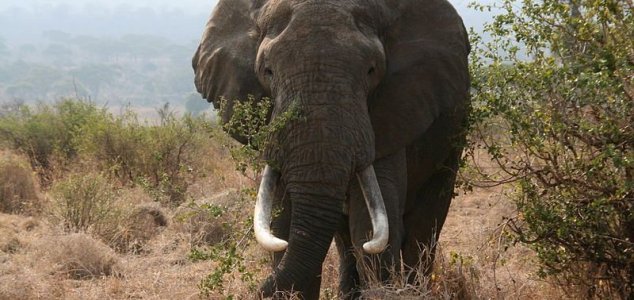 Over 350 elephants died.

Image Credit: CC BY-SA 3.0 Geir Kiste
Hundreds of elephants have been mysteriously dying in Botswana and scientists have finally figured out why.
Earlier this year, the unexplained deaths of hundreds of elephants in the swamps of the Okavango Delta in Botswana, Southern Africa left experts scratching their heads.
The country is home to a large number of savanna elephants - over 130,000 individuals - which amounts to approximately one third of the remaining population in Africa.
The fact that the animals were found with their tusks intact suggested something other than poaching was responsible, however the possibility that someone had poisoned the animals couldn't be ruled out.
Now at last the answer has been revealed - it turns out that the elephants had died from ingesting toxins produced by cyanobacteria that can be found in waterholes.
"Our latest tests have detected cyanobacterial neurotoxins to be the cause of deaths," said Mmadi Reuben, principal veterinary officer at the Botswana department of wildlife and national parks.
"However we have many questions still to be answered such as why the elephants only and why that area only. We have a number of hypotheses we are investigating."
Government officials have since announced that testing of waterholes across the region will be carried out during the next rainy season in an effort to prevent the same thing happening again next year.
Fortunately, so far at least, it does not seem as though the problem has impacted any other species.
Source: Brinkwire | Comments (9)
Tags: Elephants