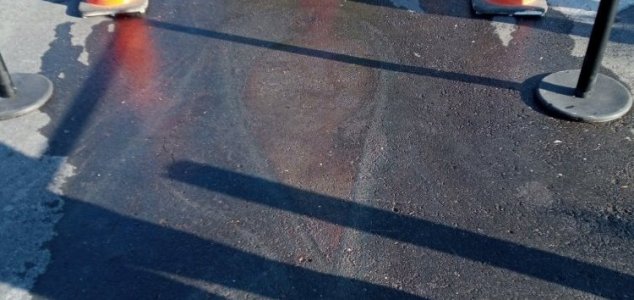 Until now, nobody had seen the drawing since 2007.

Image Credit: Twitter / @palomofelixtv
A chalk drawing of the Virgin Mary has mysteriously reappeared 13 years after it had faded away.
The drawing, which had been created in an outdoor parking lot in the city of Monterrey, Mexico during festival celebrations in 2007, had originally only lasted around three weeks before the chalk had faded to the point where it was no longer visible and it was ultimately forgotten about.
Remarkably however, members of the public began to notice recently that the image had reappeared some 13 years after its original creation and nobody has been able to explain how, especially given its exposure to the elements and the fact that cars have constantly been driving over it all that time.
Photographs of the artwork have since attracted a lot of attention on social media and crowds of people have been flocking to the parking lot to view it for themselves.
Some have attributed the phenomenon to divine intervention and have left candles and flowers.
Felix Palomo, who is the director of Culture of the municipality of Guadalupe, has posted images of the spectacle on Twitter in the hope of finding answers.
"Whether you believe in miracles or not, the question is how did this image reappear 13 years after its creation ?" he wrote.
So far however, no conclusive explanation for the phenomenon has been forthcoming.
Source: Oddity Central | Comments (108)
Tags: Virgin Mary