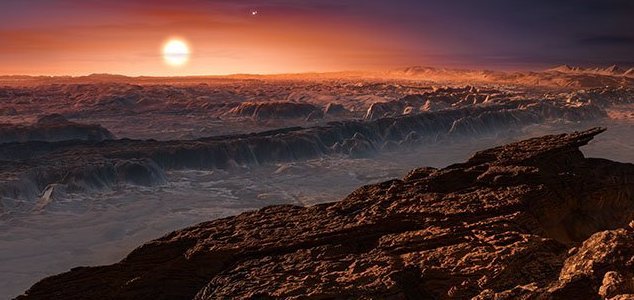 An artist's impression of exoplanet Proxima Centauri b.

Image Credit: ESO / M. Kornmesser
Astronomers are currently investigating a signal coming from the direction of our closest neighboring star system.
The signal, which was reportedly picked up by the Parkes telescope in Australia last year, is now being investigated by researchers from the Breakthrough Listen Project - a $100 million initiative dedicated to the search for evidence of intelligent extraterrestrial communications.
According to reports, it appears to have come from the Proxima Centauri system - the nearest star system to our own and home to two planets including one that could potentially support life.
At the moment it remains unclear what might have produced the signal and astronomers have so far failed to find a conventional source.
Believed to have been picked up in the 980MHz range, the signal is particularly tantalising because it seems to shift in frequency in a manner consistent with the movement of a planet.
It has been described as "the first serious candidate since the 'Wow!' signal."
Breakthrough Listen itself was launched back in 2016 and received the blessings of late physicist Prof Stephen Hawking who described the work it was doing as "critically important."
"Mankind has a deep need to explore, to learn, to know," he said at the time.
"It is important for us to know if we are alone in the dark."
Could the Proxima Centauri signal be evidence that we are not ?
Source: Mail Online | Comments (136)
Tags: Proxima Centauri