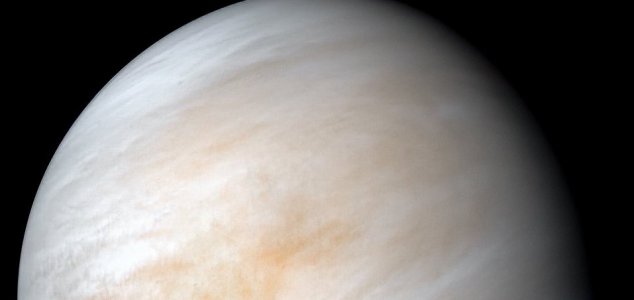 The case for phosphine on Venus is not looking so great.

Image Credit: NASA / JPL-Caltech
A new paper has cast doubt on the presence of phosphine gas in the atmosphere of the planet Venus.
Back in September of last year there was much excitement when scientists announced that they had found phosphine in our neighboring planet's atmosphere - a possible indicator of extraterrestrial life.
With surface temperatures exceeding 860 degrees and crushing atmospheric pressures that are more than 100 times those found on our own planet, however, the conditions on Venus are undeniably hellish, which is why it has never really been considered a top candidate in the search for life in our solar system before.
The news sparked a great of debate in the scientific community, with some arguing that it was too soon to say with any degree of certainty that there really was phosphine in Venus' atmosphere.
Now, several months on from the discovery, a new paper published in
The Astrophysical Journal
has put forward the claim that the signal indicating the presence of phosphine on Venus had been misinterpreted and that it had instead indicated the presence of sulfur dioxide.
"Instead of phosphine in the clouds of Venus, the data are consistent with an alternative hypothesis: they were detecting sulfur dioxide," said study co-author Victoria Meadows.
"Sulfur dioxide is the third-most-common chemical compound in Venus' atmosphere, and it is not considered a sign of life."
To determine this, the team modeled the conditions on Venus and used this to re-interpret the data.
"I personally think that this is the final nail in the coffin of the phosphine hypothesis," Prof Ignas Snellen of Leiden University told
Gizmodo
in an email.
"Of course, one can never prove that Venus is completely phosphine-free, but at least there is now no remaining evidence to suggest otherwise. I am sure that others will keep on looking though."
Source: Gizmodo | Comments (7)
Similar stories based on this topic:
Tags: Venus