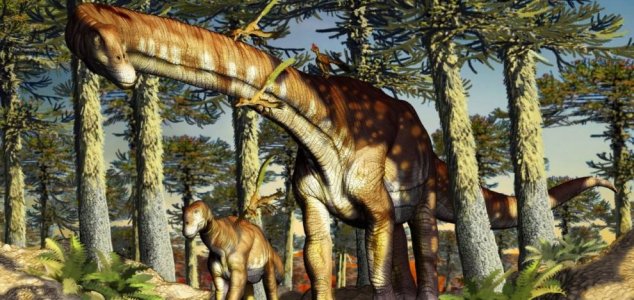 Titanosaurs were absolutely gigantic.

Image Credit: Jorge A. Gonzalez
Palaeontologists have unearthed what is thought to be the oldest member of one of the largest dinosaur species.
These gargantuan plant-eaters, which roamed the planet over 100 million years ago when global temperatures were much higher than they are today, were so large and heavy that some weighed the equivalent of twelve Asian elephants and measured over 120ft from head to tail.
Now palaeontologists in Argentina have identified what is thought to be the oldest individual titanosaur ever found - a specimen dating back a whopping 140 million years.
This places it right back at the beginning of the Cretaceous period.
The fossil remains were discovered in Neuquen Province, northwest Patagonia and the dinosaur has been nicknamed 'Ninjatitan zapatai' after palaeontologist Sebastian 'El Ninja' Apesteguia and technician Rogelio Zapata.
A growing body of evidence suggests that titanosaurs continued to grow throughout their adult lives, suggesting that the older the age of the individual, the larger it was likely to be.
Incredibly, this particular titanosaur may have been one of the - if not the largest titanosaur that has ever been found, which would make it the largest dinosaur and subsequently the largest living creature to ever walk the face of the Earth.
If it was alive today, an adult human standing next to it would have barely even reached its knees.
Source: Independent | Comments (2)
Tags: Titanosaur