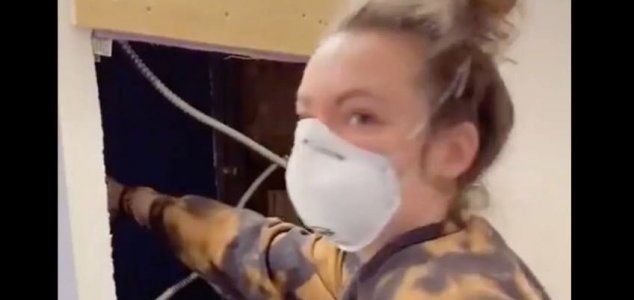 Imagine finding this in your bathroom...

Image Credit: YouTube / Samantha Hartsoe
New York resident Samantha Hartsoe was shocked to discover a large space behind the wall of her bathroom.
In a series of TikTok videos later combined into a single YouTube video, Hartsoe started out by documenting her efforts to discover the source of a mysterious cold breeze in her apartment.
Things took a rather unexpected turn however when the 26-year-old, having determined that it was coming from behind her bathroom mirror, discovered that there was a large hole in the wall behind it.
Peering through with a torch, she discovered an entire empty room with an open doorway that appeared to lead off into the gloom of some other, larger unknown space.
Keen to discover what lay beyond, Hartsoe donned a face mask, strapped a torch to her head and squeezed through the hole into the room that lay beyond.
What she found was a large, empty and half-completed apartment filled with rubbish and debris.
Disturbingly, she found indications that someone might have been living there.
"I was kind of expecting there to be somebody, especially with the water bottle being there," she said. "And that definitely put me on edge."
Ultimately she didn't run into anybody, but after returning to her room vowed to cement the mirror to the wall to keep out anyone who might attempt to break in from the room on the other side.
It later turned out that even the building managers were unaware of the empty apartment.
"I think everybody in New York has such small apartments, you don't know what you're going to find," she said.
Source: The Guardian | Comments (13)
Tags: Hidden Room