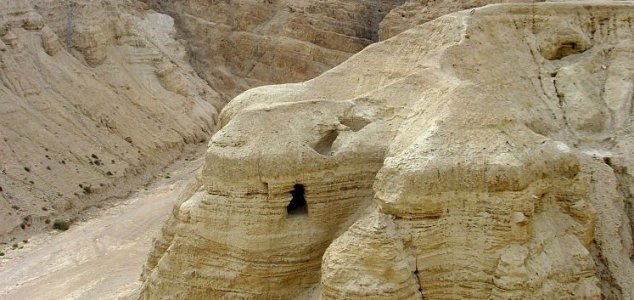 The cave in which the scrolls were originally found.

Image Credit: Effi Schweizer
A selection of never-before-seen Dead Sea Scroll fragments have been published in two new books.
Considered to be some of the most important ancient texts ever discovered, the Dead Sea Scrolls are comprised of several hundred documents dating back more than 2,000 years. They were found inside eleven caves in the eastern Judaean Desert between 1946 and 1956.
Now a further 25 unpublished scrolls, which were purchased by collectors Martin Schoyen from Norway and Steve Green from the United States, are set to be brought to light for the first time.
The fragments contain writings from the books of Genesis, Exodus, Leviticus, Deuteronomy, Samuel, Ruth, Kings, Micah, Nehemiah, Jeremiah, Joel, Joshua, Judges, Proverbs, Numbers, Psalms, Ezekiel and Jonah.
There are a lot more where these came from too as, according to researchers, dozens of other unrecovered fragments have been appearing on the antiquities market over the last 15 years.
The Israel Antiquities Authority has also indicated that there could be hundreds more being discovered all the time by looters within other caves in the Judean Desert.
It looks as though locating and recovering them all is going to be an almost impossible task.
Source: Live Science | Comments (22)
Similar stories based on this topic:
Tags: Dead Sea Scrolls