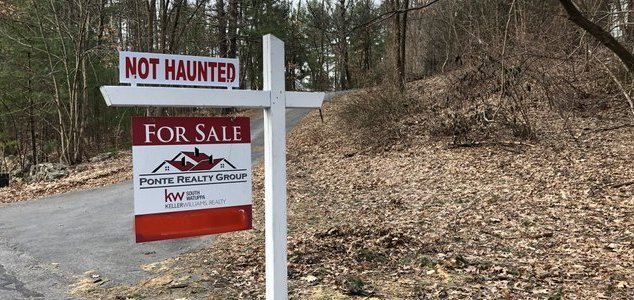 Not your typical 'for sale' sign.

Image Credit: Twitter / Margot Bloomstein / @mbloomstein
Residents of a town in Massachusetts have been left perplexed by a very unusual 'for sale' sign.
A trend that seems to have gained in popularity in recent years has been for home owners and estate agents to advertise the fact that the house they are selling is haunted in the hope of attracting more attention from prospective buyers - especially from those with an interest in the paranormal.
In this case however, someone seems to have gone to great lengths to do the complete opposite.
Residents of a Boston-area neighborhood this week couldn't help but notice that a 'for sale' sign outside one of the houses had an additional sign that read 'not haunted' in big red letters.
"This just went up around the corner and I HAVE SO MANY QUESTIONS," wrote Margot Bloomstein who took a photograph of the unusual sign and posted it up on Twitter.
The precise whereabouts of the house have been withheld for privacy reasons, however the estate agent involved in the sale has reportedly denied having anything to do with the 'not haunted' sign.
So did the homeowner place it there or did someone else do so as a prank ?
Whatever the case, it seems that someone must be very skeptical about the prospect of any paranormal activity going on at the property.
Source: Huffington Post | Comments (12)
Similar stories based on this topic:
Tags: Haunted