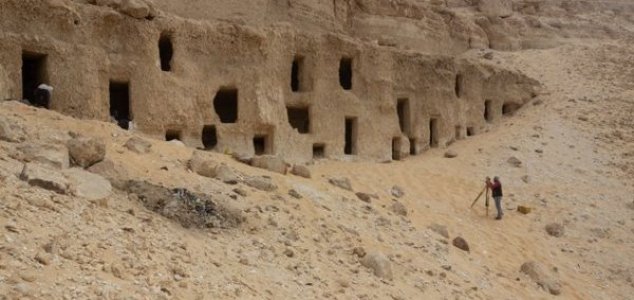 The tombs were built and reused over thousands of years.

Image Credit: Egyptian Ministry of Antiquities
Archaeologists discovered the tombs at the Al-Hamidiyah cemetery in the desert 240 miles southeast of Cairo.
According to Dr. Mustafa Waziri - the Secretary-General of the Supreme Council of Antiquities - the tombs, which date back as far as 42,000 years, were built over a long period of time.
There is a great deal of variety in the style and layout of the tombs, with some featuring burial wells and others designed with a long sloped corridor ending in a single burial chamber.
Some of them, which date back to the end of the Old Kingdom, were reused in later ages.
The most recent tombs at the site date back 2,100 years to what is known as the Ptolemaic Period.
Mohamed Abdel-Badi - head of the Central Department of Upper Egypt Antiquities - noted that excavation work at the site had unearthed a number of artefacts including clay pottery vessels.
These came in a wide range of shapes and sizes, some of which being used in daily life and others (known as 'votive miniatures') specifically designed for funerary and symbolic purposes.
Cups, jars, plates and painted, spherical vessels were also unearthed at the site.
It is hoped that additional tombs will be discovered as excavations continue over the coming months.
Source: Live Science | Comments (1)
Similar stories based on this topic:
Tags: Egypt