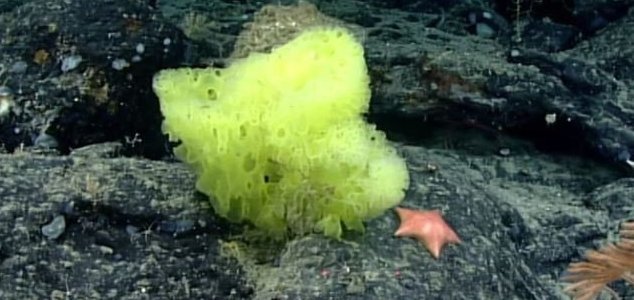 Real-life sponges are not actually square shaped.

Image Credit: NOAA
A recent underwater expedition picked up footage of a surprisingly familiar looking sponge and starfish.
The video, which shows a yellow sea sponge sitting right next to a pink starfish, was captured by an underwater submersible being controlled from the NOAA's Okeanos Explorer vessel.
Found nearly 1900 meters beneath the ocean's surface at a seamount in the north Atlantic, the scene immediately drew obvious comparisons with cartoon characters Spongebob Squarepants and Patrick.
"They're just a dead ringer for the cartoon characters," said NOAA scientist Christopher Mah.
Unlike in the cartoon however, these two deep sea life forms are not actually friends.
"In all likelihood, the reason that starfish is right next to that sponge is because that sponge is just about to be devoured, at least in part," said Mah.
"The reality is a little crueler than perhaps a cartoon would suggest."
Source: NPR.org | Comments (2)
Tags: Sponge, Starfish