By:

Fred Andersson

| Location:

Marsta, Sweden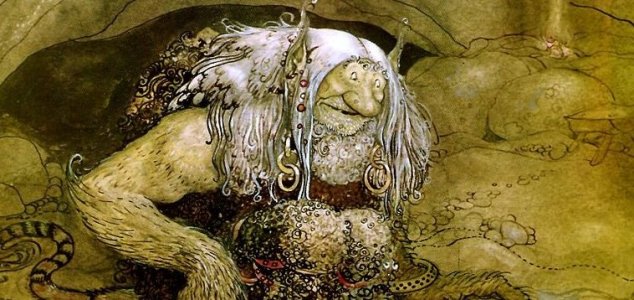 Image Credit: PD - John Bauer
On sunday the 28th of february, my husband and I were out walking for a couple of hours in the beautiful sunshine, it felt like the first real spring day of 2021 here in Marsta, Sweden, a suburb just north of Stockholm. The area we live in is full of ancient structures: grave mounds from the iron and bronze age, old viking forts, runestones and many other things. This day we decided to walk to what's left of ancient fort, up on a hill deep in the forest behind Steninge Castle.
My husband is a photographer and there's always time for a portrait, which I'm quite spoiled with after 14 years together. After checking out an abandoned old house near the road he asked me to pose in the middle of the road for a shot, which I did. Later, after uploading it on Twitter, a follower asked me what was standing by the side of the road not far from me, and to my surprise I found a (in my opinion) a troll-like creature, merged with nature - almost transparent. It looks like it's studying my husband, looking directly into the camera, slightly turned to my direction.
Yeah, I'm aware of pareidolia and that might be it. It's very similar to the trolls of artist John Bauer actually, but also like a hunching bigfoot. Maybe my eyes just want to see what they want to see, but even if it's just a (splendid) case of pareidolia it's also quite creepy, and organic. No matter what it is I find it to be quite magical. There's something with nature spirits to me, at least I want to believe.
On our way home we also saw a strange phenomena in the sky, a bright shiny spot of cloud (or something else) with traces of a spiral shape movement around it.
A fun and cool walk, not just only for the "Steninge Troll" (as I know call it) and the UFO, but also because spring is finally coming - and if it's something us Swedes like it's a lot of sun and warmth.
The photos are in my medium text, and can be seen here:
https://fred-andersson.medium.com/mysterious-troll-captured-on-photo-daad9634b340
Comments (22)