By:

Christopher

| Location:

McGuire A.F.B., NJ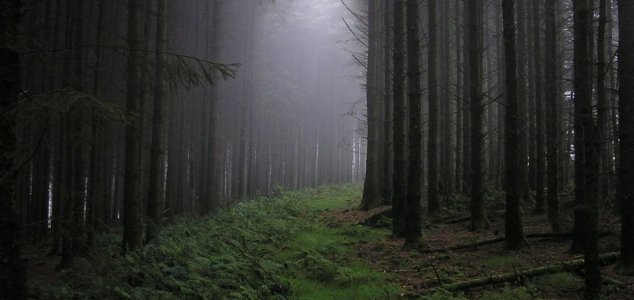 Image Credit: CC 2.0 Ashley Chile Baz
I have never told this story, nor am I sure I ever will again. This event happened to me in the fall of 1983, just south of Camp Lenape, outside of Medford, NJ. I was about 13 or 14 at the time. I was with the Boy Scouts and refused to subscribe to "ghost or monster" stories. I grew up in a family that knew and respected nature and all that it encompassed. My family moved to NJ from McCord A.F.B. in WA, after a brief stay in PA. I grew up hearing stories of Bigfoot, or Sasquatch, whichever name is more recognizable. My father grew tired of all these stories coming from a child whose imagination was so influenced by tales of monsters in the woods generated by drunks and individuals who loved to put a little fear into kids just for giggles.
I always wanted my father to see me as a "man" and was always willing to try "prove" myself as one. Growing up, my father had his career to the military and the country and had little time for kids "monster" stories, though he would entertain us with feigned interest. When this occurrence had happened I realized that this is what fathers do, and I was to grown up for such nonsense and monsters do not exist, hence my silence for close to 36 yrs. Most of my childhood "monsters under my bed" have long since been forgotten, except for this one and is why I have never stepped foot back into those woods since.
I have seen true monsters in man throughout my 50 years of life and have become somewhat bored of the other monsters in life, except this one. No matter how bad I try to explain it away, it still spawns a lump in my throat when I recall that one night and any remote thought of ever returning. There are periods in life that may have been scary to most, but over time those experiences become childhood memories. This one is still a very memorable and real and no matter how much I have tried, it cannot nor will not be explained away. I returned to NJ in 1988, at 18 yrs old, for Basic Training at Ft. Dix. I knew prior to my arrival there that my "story" would never be repeated because who wants a crazy person with a gun to defend their country? So it never happened as far as I was concerned.
So, after 36 years this is the first time and most likely the last time I will ever allow it to pass through my lips. To those non believers I say this... I don't care what you think, I am 98% positive what occurred that night and would almost give anything for you to experience the same thing and after 36 years see how you fair.
I was as I said about 14 at the time and involved in the Boy Scouts. I was one of the older boys in the troop and knew that I had to conduct myself as one. I had a love of fishing and my world revolved around it. The area we were camped at was way out in the Pine Barrens of NJ. Of course there were stories of this devil like creature that haunted the Barrens but that's all it was, was a story. We set up our camps and established what duties needed to assigned to who and when. After all the initial set ups and assignments were established it was time to knock out the 1/2 mile trek or so to the river to fish. I had no duties to attend to that night so my intentions were to pull a all nighter of fishing. I had a couple of younger scouts with me until just about dark when they decided that campfires and Smores is what was more important to them.
I was expecting scare tactics and such, no campout is complete without them. My father was a avid outdoors lover and had taught me everything he felt was needed to know about being in the outdoors, from tracking to identification of wildlife by calls and others sounds. Growing up in WA my father had taught me how to discern size differences by sounds as well, so I knew the difference between squirrels and other small animals from larger animals such as fox and bears. It was a couple of hours after dark and I decided that a all niter wasn't going to cut it and besides I was bored and hungry. I knew that my eyes were completely adjusted to the dark, that the trail was very visible in the sandy dirt going back to camp, and that I wasn't to far from camp because I could hear the other boys back in camp in the distance. I had NO fear at the time because there was nothing to fear.
As I continued down the trail towards our camp I could hear a sound I was not familiar with, assuming it was the wind or something making this groaning like sound in the trees. Still not scared in the least, I kept going thinking I'd have ammo for my own scary stories until I smelled something that didn't jive with the smells I was used to smelling there. The further I walked the stronger it got until I came around a turn in the path, almost completely on top of it. At first I thought I made a wrong turn and this screwed up looking dead tree was in my way. I stared at it for a second thinking I saw it move but knew I was mistaking. "What in the world stinks like that?" is what was in my mind until this "tree" moved again only outwards, like it was getting wider. "Enough of this silly crap, let me find the right trail." I believe were my thoughts until I turned on my flashlight.
It took a millisecond for it to register what I was seeing and a little longer for me to do a double take to make sure that I was seeing what I was seeing. This tree was not a tree but a hideous looking cross between what looked like a rearing horse or donkey with a at first a glider?, but no, they were wings stretching out just before it kind of jumped a little and went straight up through a small opening in the trees. I have no clue as to what it was and never made a hint to anyone what I saw, nor will I ever again after this. Whether or not it was a figment of my imagination or not there WAS something there that was not supposed to be there. The following morning, after laying in my tent all night with a open knife ready to scream at the first sign of anything and now feeling a fool, some of the other scouts wanted to go down to the river to fish. I started to go with them until we got to where I thought I saw what I wasn't sure of. Not saying anything except that I needed to go pee and that I'd meet everyone down at the river, I searched the entire area for anything to justify what I saw, only finding what looked like hoof prints located in just that little area, nowhere else.
I asked the scoutmaster if we were going to have horsemanship merit badge training or just rides or if anyone was out there with horses only to be told we were the only ones out there that weekend. I have never returned there, nor have I ever told that story and probably never tell it again, but rest assured that should I ever experience something that magnificent again, I'll be coming home... it will not.
Comments (6)