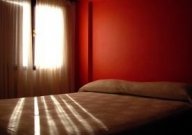 How large is your room ?
Posted on Sunday, 2 January, 2011 |

8 comments
Columnist:

Jann Burner
We all inhabit very small, very enclosed spaces within our minds...call them rooms. We even create physical, metaphorical equivalents and call them...houses. (combinations of many small square rooms, constructed entirely of 90 degree angles and hard flat surfaces.) But I am talking about the metaphorical "rooms" we inhabit within our mind. The size and space of each room is different for each person. For some, the space they inhabit is hardly bigger than a coat closet, for others it is a grand ballroom. But the fact is, each of our rooms have a very specific size and dimension and when we approach the edge, we will encounter a wall. For some this encountering The Wall, is the first they've noticed that they do, in fact, inhabit a contained space of specific dimension. For others, the creative few, encountering the wall is simply an opportunity to extend the boundaries of the space they inhabit. For some their walls are no more real than curtains on a convention center floor separating one exhibit from another. For others the walls are very real, as real as those encountered in an underground bunker designed to withstand a direct nuclear blast!
The other day I was having a conversation with a stranger and in the course of our discussion it quickly occurred to me that there was an entire wagon train of conversational topics which it would be best not to introduce. But when I did "share" some items which may have been "new" to this person, his initial response was..."You're lying!" and then "You're making this up!" And then, "Are you some sort of crazy Pinko communist or something?" And finally, the end game gambit..."You're just crazy!"
But what really brought home the concept of the specific space of limited dimension was when I was telling this story, at another time, to a college professor. He laughed good naturedly and commiserated on how he knew exactly what I was talking about and proceeded to share experiences from the class room where this idea was made very clear. We smiled, we talked and then, feeling very warm and cozy I pulled up another wagon by the fire and proceeded to share some of the information I've become privy to that I don't often share with casual strangers and what do you think happened?
"You're lying!" and then "You're making this up!" And then, "Are you some sort of crazy conspiracy whacko or something?" And finally, the end game gambit...but in this case it was The Look and not the actual words, "You're just crazy!"
And this is when it hit me. We had just encountered a wall in this person's room. It isn't just the abnormally small room inhabited by the rather backward or uneducated, we ALL have limits upon the size permitted within our specific rooms and one of the prime drives in an otherwise healthy, creative, adult is to continually work at expanding the size and dimension of the room which they inhabit. Often this is taken very seriously by college kids, but by the time they graduate, get a job, get married or enter graduate school, they forget this and instead, began to furnish the room which they inhabit and allow the size and dimension to become fixed. Oh, the draperies may change, the couch or a painting on the wall may be exchanged for something more topical or "new", but the walls will have become fixed and it matters not whether this person works in a gas station or is head of a department at a university. It matters not whether this person doesn't know who his parents are or whether he has Roman Numerals after his name followed by a string of letters. We all inhabit the specifics of a very limited paradigm. Our model of the Universe (within as well as without) is so small as to be laughable and yet, like bears in their cages we continue to pace...
This is the hope (and the danger) of this miraculous tool delivered into our hands called The Internet! On one hand it offers up all the information necessary to actually rip down the walls behind which we have all been contained these many years and on the other hand it holds out the promise of destroying ANY political system which presumes to control it. (to define the space contained within) And why is this? Simply because the Internet is so incredibly fast and ALL human bureaucracies are so incredibly slow.
But this doesn't mean that a political system or many systems won't attempt to control The Net. But they will fail because of one thing. Once you tear down the walls and open the windows there is no going back. At that point there is only one way to place a person back within a well defined room or space and that is called PRISON and even worse, in this information age it will be called Solitary Confinement. But, in the final analysis the face of the prison guard will look very familiar because it is the one you see in the mirror each morning. We, or rather our time imprinted Ego, works very hard to keep us imprisoned within a room of specific dimension, because to open the door would signal unemployment for the "Guard" and that is something it is not prepared to risk.
On offer until January 5th:
Download Jann's eBook
"The Journal of A Perimeter Man, Vol. IV, Metaphor Bridge"
for free from
Smashwords.com
with coupon code
D74Y
.
Article Copyright© Jann Burner - reproduced with permission.