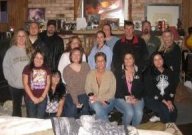 Ghosthunting 1.01 - the way we do it
Posted on Thursday, 3 February, 2011 |

1 comment
Columnist:

Paul Dale Roberts
When we get a call for a possible investigation, I listen to the client's story. I look for inconsistences and contradictions in the statement. If the story pans out, I will then obtain information on how old is the residence, do they know of any history about the residence. I will provide the address to our researcher in London, England, our researcher is Laurie Rutledge. Laurie has the ability to find anything on anyone and anybody. She has the ability to obtain information on any residence address I provide her. She is somewhat mysterious, but I do know that she has a very extensive legal background.
The Actual Investigation
I will go through bios and photographs of my 35 investigators to decide which investigators will be more adapt for the investigation. It's like the way Jim Phelps of Mission Impossible would select his agents for an assignment. After selecting the investigators, we all meet up at the residence. My videographer John Shue will record the events for YouTube. Owners have the option of staying completely anonymous or signing a waiver form allowing HPI to publicize the investigation via YouTube and with an article. The reason why HPI is so successful in getting investigations is due to the publicity. It pays to promote and advertise, plus it helps other paranormal groups get a better understanding about our investigations, they can see our successes or our failures. The YouTube videos and articles are a learning tool for all investigators throughout the world.
Before the investigation, there is an initial briefing. I will explain what areas of the residence will be investigated. I will break up the group into usually 3 teams. The teams will go into different areas of the home. Each team will have a lead investigator. The teams will be in communication with base camp (me, audio analyzer, video monitor) via walkie talkie. Each investigation is for the duration of 45 minutes. We usually have 3 investigative sessions. After each investigation we have an evidence briefing, we actually allow the occupants to assist in our investigation. In the evidence briefing, the occupants actually get to see the evidence we have collected. We show them any anomalies in our photographs and videos. We explain how something may have been debunked or we may give them a reasonable explanation for what they may have considered a strange event. We explain the McCabe Method or the Quick and Dirty Method of obtaining EVPs (Electronic Voice Phenomenon). With a digital recorder, we record, say something simple like: "Is there anyone here?" We pause, allowing the entity to respond, then play back and sometimes you may have an entity say: "Yes, I am here!" Note: We call it the McCabe Method, because Shannon came up with this quick and dirty way of collecting EVPs, most ghosthunting groups leave their recorder on all night and analyze the recordings all day the next day. Logically thinking, if these are intelligent ghosts and if you asked the ghost what his or her name is, wouldn't they respond immediately and not wait 2 hours to tell you their name is Charlotte or Joe Buck Henry?
By the end of the night...we will know if the home is actually haunted or if most everything had a reasonable explanation or was debunked. After all 3 investigative periods, we have a debriefing and explain the conclusion of the investigation. If the entities are malevolent and the occupants want the entities out of the home, we will do a cleansing. I conduct a Catholic blessing, but also I have Wiccan cleansers, Voodoo cleanser, Native American cleansers and metaphysical cleansers.
After the investigation, the occupants have open communication with me via my cell phone. I listen to follow-ups, their warm thanks or if the activity has started back up again. It is very rare after a cleansing that activity returns, but if it does, we send out a second team for another investigation and another cleansing.
Article Copyright© Paul Dale Roberts - reproduced with permission.