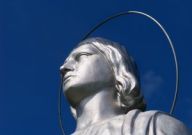 Angel encounter in Sacramento
Posted on Thursday, 21 April, 2011 |

18 comments
Columnist:

Paul Dale Roberts
By having my cell phone number out in all of my articles, I get some interesting stories and reports. This report comes from Becky Lawrence of Sacramento California. Becky makes claim that on October 12, 2010 she encountered an angel. The angel was 7 feet tall and had wings and a halo. She was unable to make out if it was a female or male. The angel had very pale skin, but looked very strong. The angel was carrying a green crystal triangle. As the angel approached her bedside, the angel placed the triangle object at the foot of her bed. Becky could hear the angel speak to her, the voice went inside her head. The angel says: "I am Mi-soon, you are to witness events, be prepared child." Becky was unable to move, she felt paralyzed, she was completely aware of her surroundings, but was unable to scream, talk or move. She says that she felt like she was frozen in time.
I asked her what the angel was wearing and she tells me the angel was wearing a tight white one piece body suit and to the left side of the suit was strange writing. I asked her to describe the writing and she remembers a lot of strange scribbles and the scribbles seemed to glow. She goes on to tell me as the triangle was placed on her bed, her whole bedroom vanished and she could see parts of the Earth. The Earth was being engulfed in water. There was water everywhere, people screaming and then one part of this experience, she could make out what she thought was part of Sacramento, perhaps the Natomas area, because she recognized the former Arco Arena. Huge waves were pounding against the arena, cars were being slammed against buildings, trees.
The angel touched the triangle and when this happened, the images were gone and so was the angel. The only thing that was left was like a snowy substance that seemed to fall from her bedroom ceiling. When she went to touch the snowy substance it would instantly evaporate. Becky held onto this secret, until now. I hope what Becky saw was a bad dream, because if it has any substance of truth, this may be a dire warning.
It appears that angels may exist, because credible witnesses have came forth to make claims of seeing angels. In 1985 Cosmonauts Leonid Kizim, Vladimir Solevev and Oleg Atkov claim they saw a odd orange light engulf their space station and inside this strange orange light, they saw 7 giant humanoid figures suspended in space. These humanoids had wings and misty halos.
In 1996 Flight 600 from New York to Denver, carrying 175 passengers encountered angels. The pilots claim they saw angels 40 to 50 feet tall hovering in the air. The co-pilot photographed the angels and experts make claim the photo is authentic.
So perhaps angels do exist?
Article Copyright© Paul Dale Roberts - reproduced with permission.