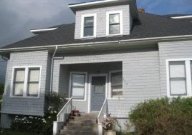 The smelly ghoul of Fort Bragg
Posted on Saturday, 3 September, 2011 |

4 comments
Columnist:

Paul Dale Roberts
HPI Investigators present: Paul Dale Roberts/HPI General Manager; John Shue/Videographer; Regina Tellez; Judy Raderchak; Jennifer Van Wormer. Occupants present: Polly Bishop; Angie Wilder; Shawndra Findley; Scrappy the Boxer and Nova the Boston Terrier. I will have the occupants tell their own experiences in their own words. I will start off with Polly Bishop first.
Polly Bishop (In her own words).
At night I feel a cold sensation, an unreal chill, that covers half of my body. I have seen a person walk down the hall out of the corner of my eye. And there is an overwhelming smell of rot in my room that comes and goes. One night I was home alone sitting on my bed and my hair started moving, like a breeze was blowing it.
Angie Wilder (In her own words).
I often see him passing from my son's bedroom to the living room. (I call it him because I have seen the figure of an older man.) He spends a lot of time looking out the west bedroom window. The bedroom has a bench seat in front of the window. He likes to sit there. Once when I was standing in the kitchen he poked me in the back.
At night I can smell him standing near my bed. He smells like decaying flesh. As a police officer I have smelled rotting flesh once or twice.
I have seen orbs on the sealing leave my bedroom and go down the hall. Often I see the dog tracing something in the hall as she sits near my bed.
Often the door knob on my bedroom will rattle violently. We had a crucifix hanging from my bed frame. The bed frame was in the hall way and at night you can hear it clicking on the frame. When I would look out in to the hall it would be swaying back and froth.
Shawndra Findley (In her own words).
As a child I could hear voices and sense that there was something there but I couldn't see it. I can feel them and hear them speak it was really scary as a child. It started at the age of 7. When my sister moves into the house, it is off the hook it made me real nervous.
My first time I realized that something was wrong with my sister's house I could smell this putrid rotten smell of meat and rotten onion. It was only in Angie and Polly's closet.
Fort Bragg HPI Paranormal Tactical Squad
He often pushes me and presses on my chest. He makes me feel like he is suffocating me. He is very threatened that I am here. He has said hello to me as he was standing on Polly's side of the bed. He wants them to leave.
I live upstairs from my sister and in my apartment I have had him breathe on me to the point that my hair was moving. My dog Lady in the night jumped off my bed and started growling at my wall with her haunches up she wasn't having whatever was in our house. I was standing in my room folding laundry one time and I sensed him behind me staring at me. He wasn't very happy that I had moved in upstairs.
END OF INTERVIEWS.
As my investigators were getting settled in with their equipment, the light fixture at 8:03pm came crashing down from the ceiling for no apparent reason. We already have designer orb photos as we have taken some random photos in the home. Now let's get the investigation going….
I will breaking up the group into two teams. Regina and Judy will be the lead investigators. We will cover the first floor and the 2nd floor of this home that was built in the 1800s. Judy is in charge of Team Pomo and Regina is in charge of Team Cali. We are experiencing extreme battery drainage tonight. The occupants have shown us strange teeth marks on one of their bedroom doors. One day the teeth marks appeared and the occupants have no explanation for it.
FIRST INVESTIGATIVE SESSION BRIEFING:
On 2nd floor kitchen, flies were heard swarming. There were no flies around. Judy asked 'is there a cat in here' and she felt like she got slapped in the face. Polly at some point of time, couldn't breathe. Judy may have captured some EVPs. They need to be analyzed on Audacity for clarity. One EVP Judy captured was the distinct sound of 2 knocks and no knocks were audible to the ears. The 2nd floor team heard footsteps downstairs during the time the 1st floor team were not walking around. At base camp, I heard footsteps in the hallway and there was no one out there. The front door opened on its own. Throughout the night, various investigators or the occupants smelled something that is similar to a rotting corpse, I even smelled it once.
SECOND SESSION INVESTIGATIVE BRIEFING:
Judy did 2 knocks on the wall and received 2 knocks back. On some of our film footage, we obtained moving orbs. Moving orbs were seen on the night vision goggles. John's viewfinder, moving orb is seen during the time the orb was seen on the night vision goggles. Jennifer saw a face and Judy captured an orb where Jennifer saw the face. Judy heard a woman's laughter. In Regina's group, one of the group members saw a strange white light on another person's head and body with the night vision goggles. The light was very bright and kept moving on the person's head, when this was happening another person was feeling suffocated and felt chills. Later their head became numb and they couldn't breathe. Some of the investigators/occupants had ringings in their ears. Regina heard a man and a woman whispering. We heard taps by the refrigerator and it was debunked as mechanical noises from the refrigerator. Regina asked 'show yourself' and she got an EVP: "If you want me to". I captured an EVP of a woman saying "I'm here" and all 7 investigators/occupants witnessed me capturing the EVP. Then obtained an EVP that sounded like 1920s music on a phonograph.
SEANCE RESULTS:
We conducted a seance on the first floor and 2nd floor. No results.
CATHOLIC BLESSING:
I blessed the 2nd floor with Shawndra. Blessed 1st floor with Angie and Polly. As I conducted a 4-winds prayer out the front door with Angie and Polly, Polly says that she felt the entity go up her back, over her head and out. A few minutes after the blessing was completed, Judy Raderchak started acting strangely. She appeared to be angry. Regina went up to her, to see what was wrong. Judy felt like something had entered the essence of her being. Regina immediately came and got me and told me that Judy needed help. When I approached Judy, she was trembling. I walked Judy over to a private location and personally blessed her. I held her, until her trembling stopped. At some point of time, Judy felt normal again and rejoined the group. This is the first time, I ever had an entity chased from the home during a blessing and then possess one of my investigators to re-enter the home.
CONCLUSION:
We did get anomalies in our photographs. We captured orbs and we all know orbs are not conclusive of paranormal activity, unless we can prove intelligent movement. Captured an EVP of a woman, amongst witnesses, this was solid evidence of the paranormal. The strange incidents such as the light fixture crashing to the kitchen floor, then blessing the home and later witnessing Judy Raderchak being possessed by the entity. This was one of the oddest cases I ever had. Yes, I do believe that this home is haunted and I pray that my blessing was a success. The occupants will keep me appraised of the situation as time passes.
Article Copyright© Paul Dale Roberts - reproduced with permission.