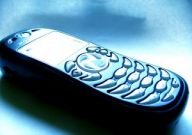 Man receives call from 1980
Posted on Monday, 25 June, 2012 |

39 comments
Columnist:

Belinda Bentley
Jake E. from Spokane, Washington put in a call to HPI and spoke with Paul Dale Roberts. Paul informed me there was an interesting story here and I should give him a call. It definitely is an interesting story! Headline: Man Receives a Call From 1980. At 3:33am Jake saw he had a missed call. It was from a private number. He looked at the time and it was "Dead Time." (3:00am - a time when the veil thins between the spirit world and ours. It's a time when nightmares happen or a time when you are most likely to have a prophetic dream. For paranormal investigators it could be a great time to get EVPs.) This isn't strange or unusual, but then he looks at the date. The date is Monday, March 10, 1980...last century. The call came from 32 years ago.
My first thought was a software problem at Sprint. So Jake and I hung up and he called his phone provider. The woman, he says, thought he was nuts. He asked "Is an error like this possible?" Her response, "Obviously it's possible if it happened?" No help there. Jake decided to do some research about March 10. Maybe there was a message beyond the grave. The only story he found in relation was Dr. Herman Tarnower, who was a cardiologist and the author of a best selling diet book based out of New York. He was shot and killed Mar. 10, 1980 by his ex-girlfriend Jean Harris for carrying on love affairs with other women during there 12 year relationship. There was a movie based on this as well as mentioned in 'Seinfeld' TV series. Could this be a message from Dr. Herman himself?
It could be, but I wanted more options to choice from. Jake's mother died when he was only 3 years old. Now being a medium I would automatic assume the spirits are trying to get his attention. The date may not be as important as just simply getting his attention. Moms have a way of doing that, but then again this is only a theory, but one that feels strong to me.
Jake's past paranormal experiences come from a place he used to work in Portland, Or. 'Screams at the Beach', where they scare visitors with vampires, mutants, zombies, and evil clowns. A super mall is turned into a haunted attraction and as a bonus they have a historic haunted carousel where people claim to hear the voices and see a boy and girl dressed in clothes from the 1920's. There is a story of a boy that got killed in the 1940's. A paranormal group went in to find proof. Jake took a recorder and went off alone trying to get EVPs, though he came up empty handed he felt the whole time that he wasn't alone. He felt someone had been with him.
Nothing is 100% solid in this case, but I will say without a shadow of a doubt I believe Jake's story. He tried to research it, debunk it or prove it's real. I told him we don't have much to go on and I felt the best course of action was to wait to see if it happens again, or to ask whatever spirit to do it again. If it listens we can get proof it's an intelligent spirit doing this and not a Sprint or phone malfunction. Unless he has a hacker in his phone listening in when he ask that question, if it happens again, we can start leaning towards the supernatural.
Article Copyright© Belinda Bentley - reproduced with permission.