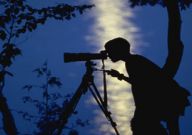 Star Jelly: Biological slime from space
Posted on Thursday, 3 August, 2006 |

5 comments
Columnist:

Ken Korczak
It's soon time to be on the watch for biological slime from outer space! Less than two weeks from today stargazers will be out in force to observe the annual Perseid meteor shower, which grace the night skies every Aug. 12. But if you go out to have a look, be on your guard the next morning for blobs of extraterrestrial slime scattered upon the earth. Some call it "star jelly." Centuries ago, the Welsh called it "pwdre ser" which means "rot of the stars." Whatever it's called, the star jelly phenomenon represents one of the most persistent and baffling enigmas in science history.Throughout the ages, there have been dozens of reports of eerie deposits of gelatinous blobs found on the ground the morning following the sighting of a bright meteor, or the occasional meteor shower. In fact, the campy 1958 science fiction movie classic "The Blob" is said to have been inspired by a giant mass of star jelly which was discovered by Philadelphia police in 1950.
The cops described the gunk as "a domed disk of quivering jelly, 6 feet in diameter, one foot thick at the center and an inch or two near the edge." It dissolved into an odorless, sticky scum when they touched it. A bright meteor was seen by many witnesses the night before in the area.Although biological slime from outer space arriving on the backs of meteors seems too incredible and sensational to believe, persistence reports of star jelly sightings across many centuries are tantalizing in the extreme. Dozens of references to star jelly can be found in an array of poems, scientific journals and literary publications. For example, as far back as 1641, a Brit with the fantastic name Sir John Suckling included these lines in a poem:As he whose quicker eye doth traceA false star shot to a mark'd placeDo's run apace,And, thinking it to catch,A jelly up do snatchThe literary great Sir Walter Scott wrote in his novel, the Talisman:"Seek a fallen star," said the hermit, "and thou shalt only light on some foul jelly, which, in shooting through the horizon, has assumed for a moment an appearance of splendour."While many references to star jelly can be found throughout the centuries, modern reports are just as numerous. On the evening of November 3, 1996, for example, a meteor was seen blazing across the sky of Kempton, Australia. The next morning, white translucent slime was discovered on the lawns and sidewalks of the town. But it's not just gooey slime that seems to be falling from space to earth. In 2001, a blood-red rain fell across Kerala, India, dumping tons of biological material which appears to made up of thick-walled, red-tinted cell-like microbes. Studies of the red rain material found that the particles lacked DNA, yet seemed able to reproduce -- even in water that was superheated to 600?F!
All attempts to conclusively identify what the stuff is have proved fruitless to date, leading some top and reputable scientists to suggest the red rain is from outer space. Stay tuned.But perhaps the most bizarre case of a biological mass that seems to have fallen from space involves a discovery made by a team of researchers near the small town of Moose Knuckle, Saskatchewan. On the morning of May 8, 1988, the morning after a huge fireball meteor was seen streaking across the Canadian sky, scientists found a large pale mass of blobby stuff formed into a shape which very precisely resembled the dead punk rocker Sid Vicious. Ha! Ha! I'm just making that last one up!But seriously, most scientists remain highly skeptical of the star jelly phenomenon, even though finding a solid explanation has proven difficult. Some have suggested that star jelly is actually the excretion of certain amphibious animals, such as frogs, or plant-like funguses, or perhaps the remains of jelly fish like creatures which people have discovered only coincidentally after the sighting of a meteor. Other suggest industrial pollution as the source, although this would not explain star jelly sightings across hundreds of years. Whatever the case, I plan to be out under the stars on August 12 again this year to watch the green-tinted, fiery trails of the Perseid meteors, as I have done every cloudless night for the past 35 years, or so. On many of those nights, I have seen some spectacular light shows in the heavens. And who knows, maybe one day I'll greet the morning after sheathed in a putrid coating of extraterrestrial slime.
Visit's Ken's blog: www.ironghost.wordpress.com
Article Copyright© Ken Korczak - reproduced with permission.
---
Ken Korczak is the author of Minnesota Paranormala:
http://www.amazon.com/Minnesota-Paranormala-Volume-1-ebook/dp/B004Y5G114/