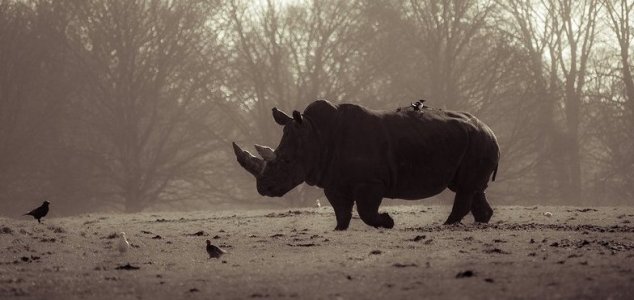 Rhino horns are highly sought after.

Image Credit: CC BY 2.0 William Warby
With only 1,000 rhinos remaining in the country officials are taking new measures to dissuade poachers.
Under the new proposals every rhino in Kenya will have a microchip placed in its horn. Poaching has become an increasingly big problem in the region and it is hoped that the move will help to catch or discourage those who illegally kill the animals for their horns.
"Poachers are getting more sophisticated in their approach," said Paul Udoto of the Kenya Wildlife Service (KWS). "So it is vital that conservation efforts also follow and embrace the use of more sophisticated technology to counter the killing of wildlife."
The World Wildlife Fund has donated the microchips along with the scanners needed to read them at a cost of $15,000. Once the rhinos have been implanted it will be possible for the police to trace rhino horns and prosecute those responsible for taking them.
"Investigators will be able to link any poaching case to a recovered or confiscated horn, and this forms crucial evidence in court, contributing towards the prosecution's ability to push for sentencing of a suspected rhino criminal," the Kenya Wildlife Service said in a statement.
Source: AFP | Comments (8)
Tags: Rhino, Poaching