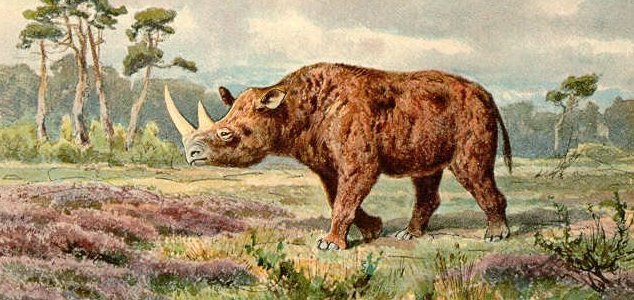 Perhaps we didn't wipe out the rhinos after all.

Image Credit: Heinrich Harder
The woolly rhino may not have been wiped out by human hunting practices as was previously believed.
One of the most recognizable of all extinct Ice Age mammals, the woolly rhino, like the mammoth, is often associated with a time long before modern human civilization started to appear on the scene.
That's not to say that they didn't live alongside man however - many researchers believe that their ultimate demise was due to the prevalence of human hunting which slowly wiped them out.
Now though, a new study has cast doubt on this idea, instead suggesting that climate change was primarily responsible for these long-lost mammals going extinct.
The research involved winding back the clock by analyzing the preserved DNA of woolly rhinos found in north-east Siberia for evidence of inbreeding and decreased genetic diversity.
Their findings indicated that rhino population numbers had remained relatively stable right up until they disappeared, suggesting that the species may have been wiped out in a very short space of time.
"It hints that maybe the final extinction decline happened very, very rapidly, perhaps within the space of a few hundred years," said study co-author Prof Love Dalen from the the Center for Palaeogenetics in Sweden.
"Humans arrived in north-eastern Sibera at least 30,000 years ago. They co-existed there for 12,000 years until [the time of] our [woolly rhino] genome, and during that time we see no evidence for decline in the woolly rhino population."
Instead, the main culprit was most likely to be a period of warm weather known as the Bolling-Allerod interstadial which happened to coincide with the time of their demise.
"It hammers home the fact that rapid climate warming can have devastating impacts on species survival," said Dalen.
"While perhaps we are let off the hook in terms of having killed them with spears back then, it highlights the risk that we are taking with biodiversity at present when we are affecting global climate on a rapid scale."
Source: The Guardian | Comments (17)
Similar stories based on this topic:
Tags: Rhino