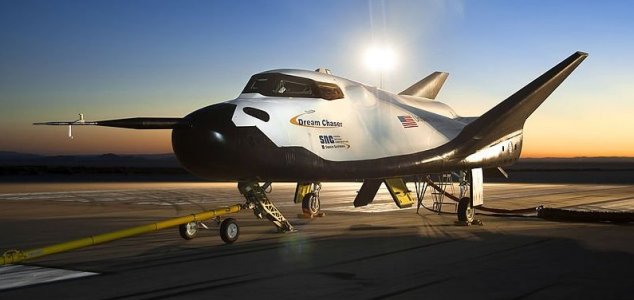 The Dream Chaser's design is very similar to NASA's space shuttles.

Image Credit: NASA / Ken Ulbrich
The first test flight of a new prototype space plane went according to plan aside from a slight mishap.
Developed by Sierra Nevada Corp in partnership with NASA, the Dream Chaser is intended to act as a replacement to the retired space shuttle fleet by providing a way for astronauts to fly back and forth from the International Space Station.
The vehicle, which resembles a miniature space shuttle, took a big step forwards on Saturday when a successful glide test was conducted at Edwards Air Force Base in California. The plane was lifted to a height of 12,500ft before being released and took one minute to glide back down to the runway.
The flight went almost perfectly except for a problem with one of the landing gears which did not deploy, resulting in the plane skidding on to the sand. Despite the setback however the test was deemed a success.
When completed, the Dream Chaser will be capable of taking off vertically on an Atlas V rocket and carrying up to seven astronauts to the space station before returning to the Earth.
Source: Sky News | Comments (15)
Tags: Dream Chaser