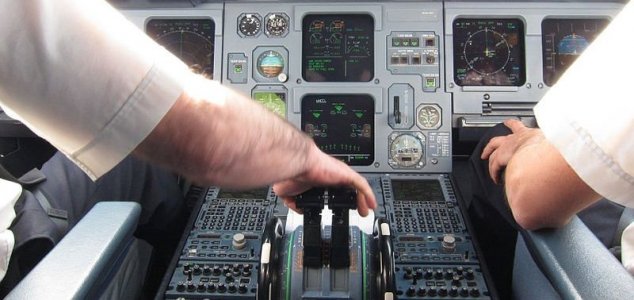 Pilots in the cockpit of an Airbus A320.

Image Credit: CC BY-SA 3.0 Olivier Cleynen
A pilot flying over the UK had a near-miss with an unidentified object that flew towards his plane.
The incident, involving an Airbus A320, took place over Berkshire during a routine flight. The plane had been flying at a height of 34,000ft when the pilot spotted a strange silver object traveling towards him at what appeared to be the same altitude.
"Having very little time to focus, he was under the apprehension that they were on a collision course with no time to react," a report on the incident stated. "His immediate reaction was to duck to the right and reach over to alert the first officer; there was no time to talk to alert him."
The pilot later reported his experience to an investigative safety watchdog, describing the object as a metallic silver cigar-shaped craft. The incident is believed to have taken place around 20 miles to the west of Heathrow Airport.
Investigators looked in to the incident but were unable to find anything. "It wasn't possible to trace the object or determine the likely cause of the sighting," they concluded.
Source: Sunday World | Comments (145)
Tags: UFO, Pilot