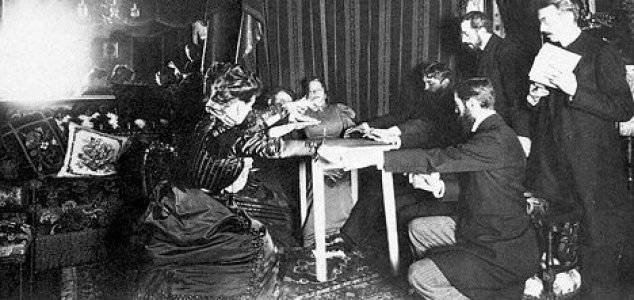 A 19th century drawing room seance.

Image Credit: H. Mairet - 1898
The 19th century was a golden age for spooky stories and ghostly tales, but why was this the case ?
The Victorian era was ripe with spiritualism, ghost stories around the fire and tales that could chill the soul of even the most ardent of skeptics.
Christmas Eve was traditionally a time when people would gather for this purpose, during a period when lamp-lit fog-filled streets and flickering candles were the norm and belief in ghosts, mediums and communication with the dead was commonplace.
Ghost stories were proliferated in the media, too, with the release of the Charles Dickens' classic "A Christmas Carol" in 1843 helping to cement the phenomenon even further in the public consciousness. A rise in the periodical press also meant that ghost stories and reports of drawing room seances need no longer be restricted to word of mouth. Even ghost photographs came to prominence in the late 19th century thanks to the advent of effective hoaxing techniques.
But it was the seances themselves that are perhaps the best known example of the rise in Victorian paranormal beliefs. "There are floating tables, floating musical instruments, and at some point you get full-form materialisation of ghosts, dressed in white," said author Peter Lamont.
Despite the widespread occurrence of such seances however, fakery was rampant and the 'ghosts' manifested in front of the bewildered onlookers were most commonly either dolls, people in costumes or 'apparitions' made out of cheesecloth and other materials.
Source: The Guardian | Comments (6)
Tags: Victorian, Ghost