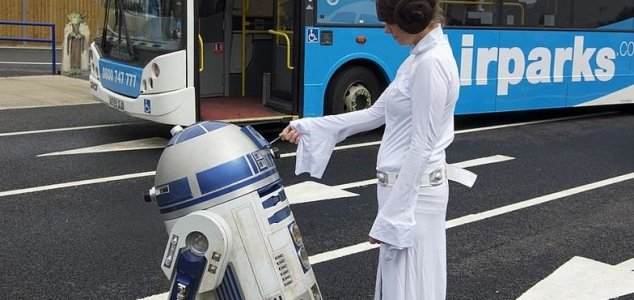 Re-enacting the scene in which R2 records Leia's message.

Image Credit: CC BY-SA 2.0 Holidayextras
A company in Poland is developing a 3D holographic communications mechanism for mobile phones.
The company, named
Leia Display Systems
after the Star Wars heroine who famously appeared to Obi-Wan Kenobi in a holographic projection, is aiming to make their groundbreaking hologram communication device available to consumers within five years.
"Our holograms will take video phone calls to the next level," said chief executive Marcin Panek. "We are on the frontier of technology that was imagined in movies 40 years ago - it is science fiction becoming science fact."
The system will use a special camera on one end to record the video and a hologram generator on the other end that uses water vapor to produce a three-dimensional image.
"At the moment, our holograms are made using machines that are more than six feet high but we are designing smaller versions that can be set up on a coffee table in a living room," said Panek.
Source: Contact Music | Comments (12)
Tags: Star Wars, Hologram