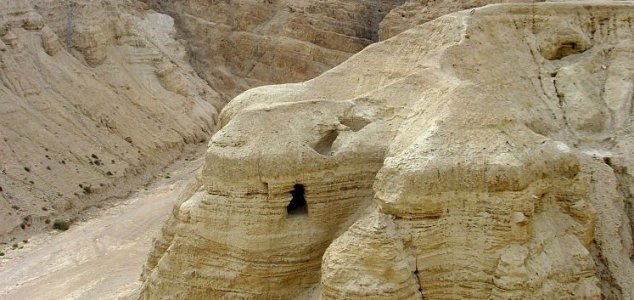 The cave in which the scrolls were found.

Image Credit: Effi Schweizer
The newly identified penny-sized parchments had been forgotten about for more than six decades.
Considered to be some of the most significant ancient texts ever discovered, the Dead Sea Scrolls are comprised of several hundred documents dating back more than 2,000 years. They were found inside eleven caves in the eastern Judaean Desert between 1946 and 1956.
Now nine more of the scrolls have been identified after being archived and forgotten about within an Israel Antiquities Authority storeroom for the last 60 years. Contained within three phylacteries, the scrolls were rediscovered after scholar Yonatan Adler had them CT scanned to see what was inside.
Experts will now be faced with the difficult task of carefully unrolling the scrolls to find out what's written on them.
"We're going to do it slowly, but we'll first consult with all of our experts about how to go about this," said artifact conservationist Pnina Shor. "We need to do a lot of research before we start doing this."
Source: Fox News | Comments (18)
Similar stories based on this topic:
Tags: Dead Sea Scrolls