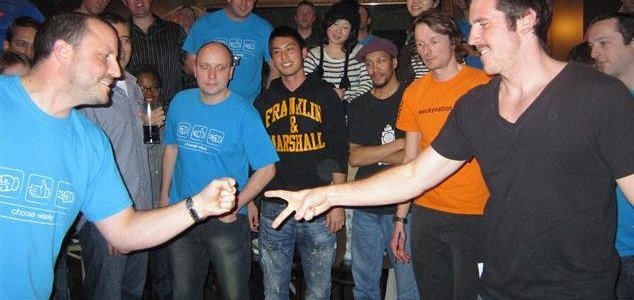 Rock beats scissors.

Image Credit: James Bamber
The game might seem to offer equal odds of victory but there is actually a way to obtain an advantage.
The odds of winning any given round of rock-paper-scissors when each player chooses an action at random should be 1 in 3, however in practice most people tend to stick to certain behaviors and patterns which makes predicting their next move much easier.
In a recent study scientists held a rock-paper-scissors tournament at Zhejiang University in China involving 360 students who each played 300 rounds. The researchers documented the actions played in each of the games and then examined the results to look for any obvious patterns.
Their findings showed that players who had won a hand tended to use the same action again on the subsequent turn, while players who lost a hand tended to change their next action to something else.
This "win-stay lose-shift" strategy may in fact be hard-wired in to the brain and by carefully observing and predicting an opponents actions during a match it is indeed possible to gain a distinct advantage over the course of the game.
Source: BBC News | Comments (18)
Tags: Rock, Paper, Scissors