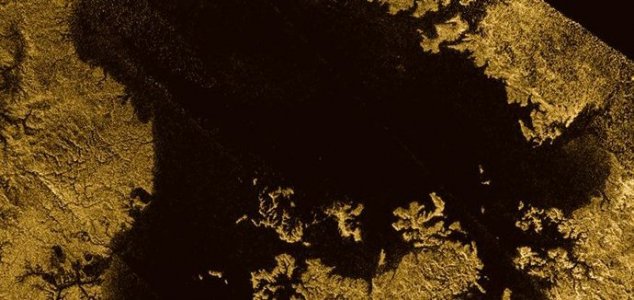 Close up photograph of Ligeia Mare.

Image Credit: NASA
A strange object in one of Titan's largest seas has been mysteriously appearing and disappearing.
Scientists were left perplexed when the peculiar 'island', which was nowhere to be seen on images taken in 2013 of Titan's second-largest sea Ligeia Mare, seemed to have appeared out of nowhere in later photographs only to disappear again a short time later.
Unlike the oceans here on Earth the seas of Titan, being composed of liquid hydrocarbons, are believed to be extremely calm with very little movement. To have a whole island appear and disappear so quickly suggests that something more must be going on.
"This discovery tells us that the liquids in Titan's northern hemisphere are not simply stagnant and unchanging, but rather that changes do occur," said planetary scientist Jason Hofgartner. "We don't know precisely what caused this to appear, but we'd like to study it further."
Source: Belfast Telegraph | Comments (29)
Tags: Titan, Saturn