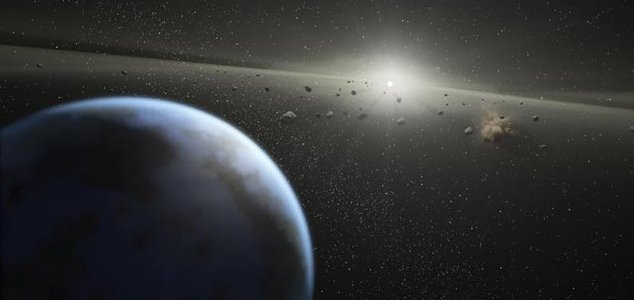 Earth was bombarded by meteors following the collision.

Image Credit: NASA
A meteor shower 470 million years ago is thought to have initiated an explosion of life on Earth.
Asteroid impacts are something we tend to associate with apocalyptic disaster for our planet, a prime example being the asteroid that wiped out the dinosaurs 66 million years ago.
On some occasions however asteroids can actually be beneficial for life on Earth, such as in the case of a meteor shower believed to have hit our planet 470 million years ago following a collision between two asteroids out in space.
Far from bringing death and destruction this shower of rocks seemed to kick-start a "major phase of biodiversification" around the world, leading to the development of countless new species.
Now scientists believe that they have identified a fragment, not of the meteor shower itself, but of the "bullet" asteroid that caused the collision that produced it. The find is quite unlike any asteroid piece ever discovered before.
"It's a very, very strange and unusual find," said study lead author Birger Schmitz. "I think [it] adds to the understanding that the meteorites that come down on Earth today may not be entirely representative of what is out there."
Source: Independent | Comments (9)
Similar stories based on this topic:
Tags: Asteroid, Earth