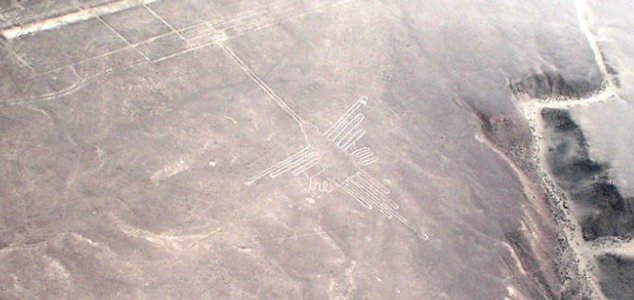 An aerial view of the famous hummingbird geoglyph.

Image Credit: CC BY-SA 3.0 Martin St-Amant
Lines forming the shape of a llama and a snake have been uncovered by recent sandstorms over Peru.
Located in the Nazca desert, the vast and ancient geoglyphs of the Nazca Lines are generally regarded as one of the most important archaeological discoveries in history.
Thought to date back to 650 AD, the massive depictions, which are thought to hold religious significance, can only be properly viewed from high above and include images of spiders, monkeys, lizards and many other animals.
Now the legacy of the ancient Nazca people has been expanded even further thanks to the discovery of several new geoglyphs that have been uncovered due to strong winds blowing away the sand.
The lines are thought to form the shape of a snake and a llama and were first spotted by pilot Eduardo Herrán Gómez de la Torre as he was flying over the region.
Source: Daily Mail | Comments (16)
Tags: Nazca Lines