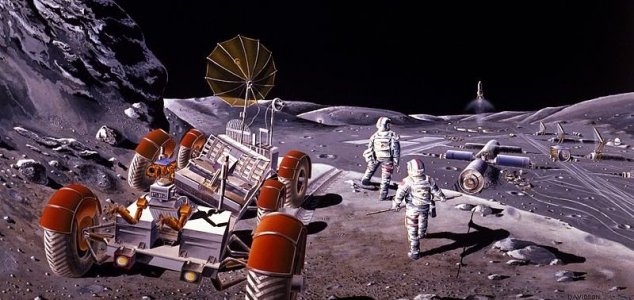 Russia is heading to the moon.

Image Credit: NASA/Dennis M. Davidson
Russia is planning an extensive series of missions with the ultimate goal of landing humans on the moon.
Landing a cosmonaut on the lunar surface has been a dream of Russian scientists since the 1960s during which the world's best known space race ended with Apollo 11's historic landing in 1969.
Now Russia is set to try again and this time to be the first to set a human on the moon since the original Apollo program. The first phase will involve the sending of several unmanned probes over the next few years beginning with Luna-25 in 2016 which will land at the moon's south pole.
Two more missions, expected to launch in 2018 and 2019, will then see an orbiter and a second lander arriving at the moon in an effort to hunt for water ice.
Speaking at the COSPAR Scientific Assembly in Moscow on Sunday, Igor Mitrofanov of the Russian Academy of Sciences' Space Research Institute revealed that these missions are an important step as they will provide the opportunity to "learn to conduct the Moon landing all over again."
"An estimated cost of one project aimed at the development of an automatic lunar station is 10 billion rubles (about $280 million)," he said. "The project is to be completed in five or six years. The manned lunar mission will cost ten times more."
Source: Ria Novosti | Comments (18)
Tags: Russia, Moon