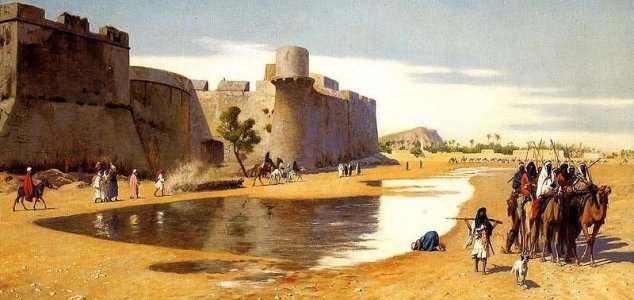 Several fortresses once protected Egypt's eastern border.

Image Credit: Jean-Loon Gerome
Archaeologists have discovered the ruins and foundations of an ancient fortress at Tell Habua.
The fortress, which was also known as the 'Wall of the Prince', was part of a heavily fortified defensive line and is one of several such fortifications to have been found at the site of the ancient city.
Its discovery corresponds to what is described in the Way of Horus, a famous inscription found on the walls of the Karnak Temple in Luxor which depicts a series of eleven military fortresses of which only five have been unearthed by archaeologists.
"The discovery is significant as it reflects the details of the ancient Egyptian military history," said archaeologist Mohammed Abdel-Maqsoud who headed up the excavation team.
"It is a model example of Ancient Egyptís military architecture, as well as the Egyptian war strategies through different ages, for the protection of the entirety of Egypt."
The fortifications would have protected the country's eastern front from invaders and stretched a distance of more than 350km between present day Qantara and the border city of Rafah.
Source: Cairo Post | Comments (2)
Similar stories based on this topic:
Tags: Egypt, Fortress