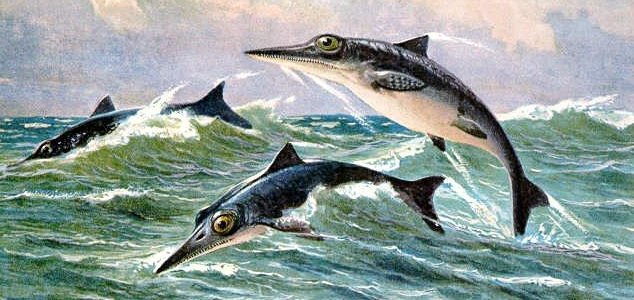 Large numbers of ichthyosaurs once swam in the prehistoric seas.

Image Credit: Heinrich Harder
The fossil of a previously unknown species of prehistoric aquatic reptile has been found at a museum.
The remains, which had actually been discovered 30 years ago, had ended up being placed in a collection at Doncaster Museum where their true significance had gone unrecognized for decades.
It wasn't until paleontologist Dean Lomax came across the fossil that the new species was finally identified. Working together with Prof Judy Massare from the State University of New York, Lomax compared the specimen to over 1,000 other ichthyosaurs and realized that it was something that had never been seen before.
The fossil was so well preserved that it was even possible to view the contents of its stomach.
"We could see tiny hook-shaped features that were actually the hooks from the tentacles of squid," said Lomax. "So we know what its last meal was."
The specimen, which was discovered in rocks along Dorset's Jurassic Coast, is one of thousands found around Britain's shores where large numbers of ichthyosaurs once swam millions of years ago.
The new species has been named
Ichthyosaurus anningae
in honor of Mary Anning, the British fossil hunter who identified the first ever ichthyosaur fossil along the Dorset coast in 1811.
Source: BBC News | Comments (4)
Tags: Ichthyosaur, Fossil