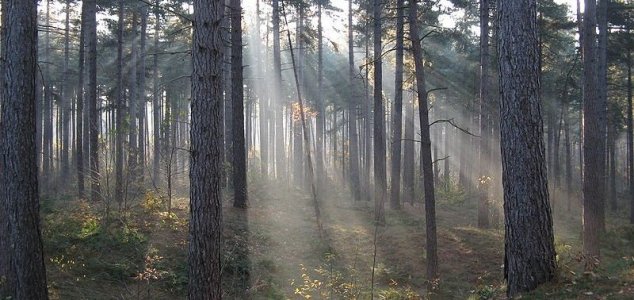 The mysterious object was observed by multiple witnesses.

Image Credit: CC BY-SA 3.0 Donar Reiskoffer
Dozens of people reported a huge, slow-moving object passing over their homes on Tuesday night.
Cannock Chase has developed something of a reputation for paranormal occurrences in recent years having been home to reports of everything from black-eyed children to Slenderman.
In this latest incident a strange low-pitched rumbling noise had started up somewhere around 9pm on Tuesday and a large slow-moving object was later seen passing overhead. Witnesses recalled that it had three red lights and was flying at low altitude.
"Before anything could be seen with the naked eye, there was a deep and very loud droning," said paranormal investigator Lee Brickley. "After around three minutes, the craft came into sight."
"It seemed incredibly large and astonishingly low in the sky with three red lights that were easily noticeable. The UFO traveled very slowly and many people thought it was about to crash."
Brickley later contacted Birmingham airport in an attempt to rule out any known flights over the area but was told that no aircraft would have been flying so low over Cannock Chase at that time.
"I'm sure it is something that can be explained," said a spokeswoman for UK UFO research group BUFORA. "Whether it will be explained is another matter. There are so many drones around."
Source: Birmingham Mail | Comments (24)
Similar stories based on this topic:
Tags: UFO, Cannock Chase