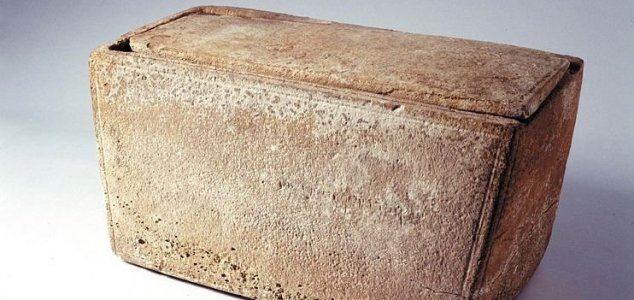 The James Ossuary was on display at the Royal Ontario Museum from 2002-2003.

Image Credit: Paradiso
Geoarcheologist Arye Shimron and filmmaker Simha Jacobovici believe they have found the tomb of Jesus.
The two researchers claim to have been able to establish a firm connection between the controversial James Ossuary - a burial box discovered in 2002 with an inscription referencing the burial of Jesus - and the 'Jesus Family Tomb', a long-disputed site discovered in 1980 in Jerusalem's East Talpiot neighborhood.
Shimron and Jacobovici maintain that their findings prove that Jesus was buried in Jerusalem alongside nine other people including his alleged wife and son.
The James Ossuary attracted worldwide attention when it was unearthed over a decade ago due to inscriptions on its surface that included references to "Jesus, son of Joseph", "Maria","Joseph" and perhaps most controversially of all, "Judah, son of Jesus."
Hollywood director James Cameron of "Titanic" fame even produced a documentary about the discovery called "The Lost Tomb of Jesus" which was broadcast back in 2007.
Now the controversial ossuary is making headlines once again after geoarchaeologist Arye Shimron was granted access to the box and took the opportunity to take samples from under its patinas.
After running 200 different tests on samples from several different ossuaries he was able to conclude that the James Ossuary appeared to match the unique chemical signature of the Talpiot tomb.
"This find illustrates that the James Ossuary is authentic and the Jesus Family tomb indeed belongs to the family of Jesus of Nazareth," said Jacobovici.
The pair's findings however have been met with an unsurprising degree of skepticism and there is doubt over whether such a discovery could ever be truly recognized even if it did turn out to be true.
"If in fact Jesus's tomb is found, the procedures would be no different than the discovery of any other tomb," said James Tabor from the University of North Carolina.
"But in the case of Jesus everything changes, because he is such a lightning rod figure for so many people – because if you find the bones of Jesus in a tomb then he did not rise from the dead."
Source: Jerusalem Post | Comments (181)
Similar stories based on this topic:
Tags: Jesus, Tomb