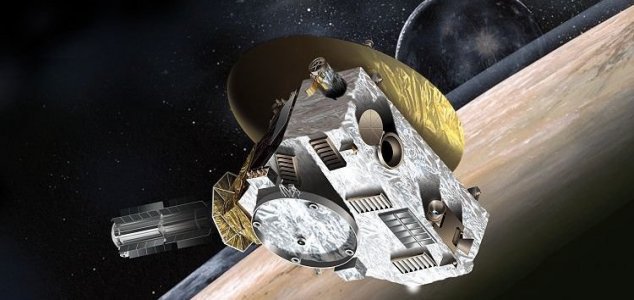 The spacecraft will arrive at its destination in July.

Image Credit: NASA
The approaching spacecraft has snapped photographs of what appears to be polar ice on the dwarf planet.
After a voyage across the solar system spanning nine years and covering more than three billion miles, NASA's New Horizons spacecraft remains on course to become the first probe ever to visit Pluto when it flies past the dwarf planet in July of this year.
In the run up to its arrival NASA has this week released a series of tantalizing new images taken by the probe's Long-Range Reconnaissance Imager (LORRI).
The photographs show Pluto at a distance of around 70 million miles with a distinctive bright spot on its surface that scientists believe could be an indication of a polar ice cap.
"As we approach the Pluto system we are starting to see intriguing features such as a bright region near Pluto's visible pole, starting the great scientific adventure to understand this enigmatic celestial object," said John Grunsfeld, associate administrator of NASA's Science Mission Directorate.
"As we get closer, the excitement is building in our quest to unravel the mysteries of Pluto using data from New Horizons."
The below slideshow, which was posted to NASA's New Horizons Twitter account, shows the motion of Pluto's moon Charon circling around it as the probe edges ever closer to its target.
Despite having spent the better part of a decade reaching Pluto however the spacecraft will pay only a fleeting visit to the enigmatic dwarf planet before heading off to explore the Kuiper belt, a cold and distant region of the solar system filled with asteroids and icy bodies.
"We will take hundreds of thousands of photographs and spectral images of Pluto and its moons as New Horizons sweeps past," said mission principle investigator Alan Stern.
Source: Forbes | Comments (9)
Similar stories based on this topic:
Tags: Pluto, New Horizons