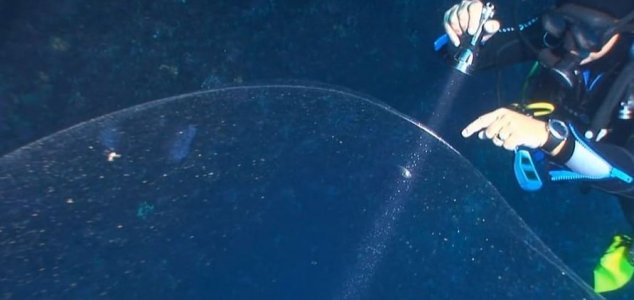 A diver examines the peculiar bubble-like sphere.

Image Credit: Vimeo / Lutfu Tanriover
Divers exploring the ocean depths off the coast of Turkey came across something extremely unusual.
The anomalous bubble-like object, which was situated around 22m below the surface, measured around four meters across and appeared almost invisible to the eye from a distance.
To the touch the 'blob' felt very soft and gelatinous in nature while inside it was filled with what seemed to be thousands of tiny particles as well as a number of other slightly larger objects.
It wasn't until the diving team had posted footage of their discovery online that they eventually learned that what they'd found was actually a 'squid egg mass' - one of the largest ever seen.
It isn't clear what species of squid was responsible for producing an egg mass this large but researchers believe that it may have contained up to two million eggs.
Source: Deep Sea News | Comments (20)
Similar stories based on this topic:
Tags: Squid, Sphere, Turkey