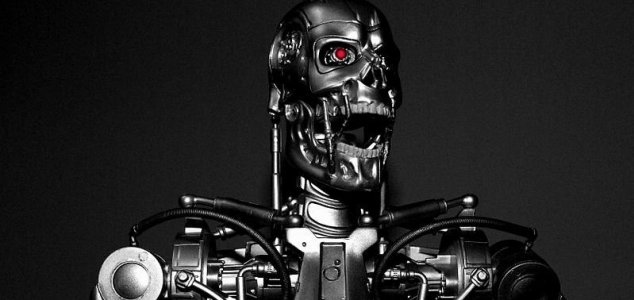 Schwarzenegger's T-800 model from the Terminator movie franchise.

Image Credit: CC BY 2.0 Stephen Bowler
More than 1,000 top technical experts have called for a full ban on autonomous weapon systems.
Stephen Hawking, Elon Musk and hundreds of other scientists, engineers and researchers have written an open letter this week designed to encourage a complete ban on AI weapons and killer robots before their development sparks a new arms race across the globe.
Entitled "Autonomous Weapons: an Open Letter from AI & Robotics Researchers", the document details the opinion held by many that autonomous weapon systems pose an existential threat that could ultimately lead to humanity being wiped off the face of the Earth.
"If any major military power pushes ahead with AI weapon development, a global arms race is virtually inevitable, and the endpoint of this technological trajectory is obvious: autonomous weapons will become the Kalashnikovs of tomorrow," the letter reads.
"Unlike nuclear weapons, they require no costly or hard-to-obtain raw materials, so they will become ubiquitous and cheap for all significant military powers to mass-produce."
The scenario of a world decimated by intelligent robots is already quite familiar having been played out multiple times in science fiction movies such as
The Terminator
and
The Matrix
.
"In summary, we believe that AI has great potential to benefit humanity in many ways, and that the goal of the field should be to do so," the letter concludes.
"Starting a military AI arms race is a bad idea, and should be prevented by a ban on offensive autonomous weapons beyond meaningful human control."
The full text of the letter can be viewed -
here
.
Source: Popular Mechanics | Comments (29)
Tags: Robot, Artificial Intelligence