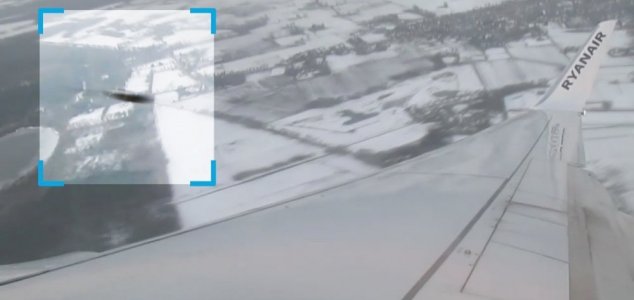 The UFO appears to pass very close to the aircraft.

Image Credit: YouTube / Lions Ground
Footage recorded by an airline passenger shows a dark-colored object skirting the wings of the plane.
The aircraft had been traveling from Malaga in Spain to Eindhoven in the Netherlands when the unidentified object zipped past it at high speed while narrowly missing the right wing.
Of particular interest is the fact that the engines of the plane can be heard revving up just a few seconds after the near-miss and the pilot appears to take a sharp turn as if to avoid something.
Since being uploaded on to YouTube at the beginning of this month the footage has proven very popular with more than 100,000 views and a significant amount of media coverage.
"A Dutch passenger captured UFO on video while on board a Ryanair flight from Netherlands (Eindhoven), heading to Spain," the video caption states.
"Coincidentally, the passenger was recording because she enjoyed the view. After four minutes, the recording of this UFO event happened. The engines made a lot of noise and the pilot made suddenly a sharp manoeuvre.The UFO endangered the aircraft. A lot of panic was on that plane."
So far however the events described have yet to be corroborated by any of the parties involved.
Source: Inquisitr.com | Comments (34)
Similar stories based on this topic:
Tags: Plane, UFO