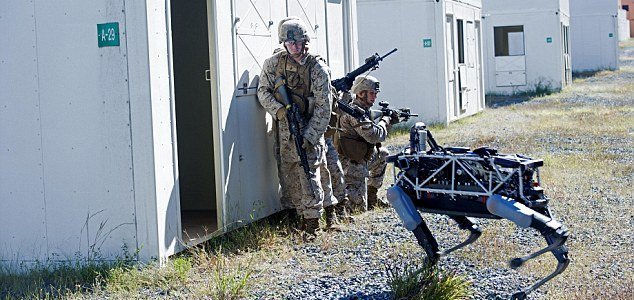 The marines have been using the robot during military exercises.

Image Credit: DoD / DARPA / US Marines
Boston Dynamics' all-terrain four-legged robot has been joining US marines on their training exercises.
The dog-like robot, which was originally developed alongside several other models by the Google-owned technology company Boston Dynamics, is now being tested out by marines in Quantico, Virginia in the hope that it can be used as a support platform for military operations.
"Spot is great and has exceeded the metrics that we've provided," said Cpt James Pineiro, head of the Marine Corps Warfighting Lab. "We see it as a great potential for the future dismounted infantry."
"We want to continue to experiment with quadruped technology and find ways that this can be employed to enhance the Marine Corps war-fighting capabilities."
The robotic dog is particularly adept at crossing uneven terrain and could help to save lives by entering potentially unsafe environments ahead of the soldiers during a military engagement.
It's also possible that some of DARPA's other recent inventions, including a walking humanoid robot called Atlas, could go on to see use on the battlefield in the not-too-distant future.
Source: UPI.com | Comments (19)
Similar stories based on this topic:
Tags: Boston Dynamics, Dog, Robot