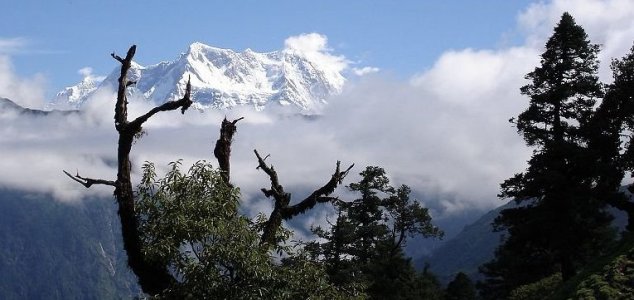 The Himalayas are said to be home to the legendary Yeti.

Image Credit: CC BY-SA 2.0 Dirk Hartung
Steve Berry encountered a mysterious set of single-file tracks on a steep mountain slope in Bhutan.
The 66-year-old had been trekking along a remote pass in the Himalayan Mountains when he came across the trail which was situated only yards away from an impassable chasm.
"The local people said we were the first to ever set foot on that pass," he said. "I had always thought that stories about the yeti were a bit of old bunkum. But there is no denying these tracks existed."
"The prints were clearly visible with the naked eye from where we were standing on a pass at 17,800ft. There was a vertical drop in front of us, not to mention a very serious mountainside to cross, so we could not get to them."
Not everyone is convinced however that the prints represent evidence of the Abominable Snowman.
Cryptozoologist Jon Downes, director of the Center for Fortean Zoology, believes that the tracks in the picture are more likely to be those of a mountain goat than a large hominid.
"I think that the chances of these prints being from anything more interesting are negligible and it is certainly not a bipedal higher primate," he said. "The center of gravity for such an animal would mean it just wouldn't be able to venture up a mountain like that."
Source: Mail Online | Comments (56)
Similar stories based on this topic:
Tags: Yeti, Bhutan