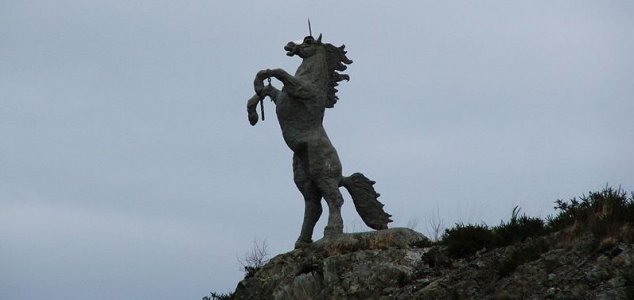 Unicorns have been a staple of myths and fables for centuries.

Image Credit: CC BY-SA 2.0 Kglavin
A pony dressed up as a unicorn managed to escape from a children's photoshoot in California last week.
The pint-sized mythical steed, which came complete with a distinctive spiral horn and pink halter, disappeared from a house in the Fresno suburb of Madera Ranchos last Wednesday evening.
Local authorities pursing the animal ended up taking four hours to track it down and required the assistance of a police helicopter with an infrared camera to help them to find it in the dark.
The elusive pony was eventually caught after following another horse in to a pen.
"I was standing with the CHP at the time and a call came over the radio that said the unicorn is in custody," said owner Sandra Boos who had been taking pictures of the pony when it escaped.
"There was a huge sigh of relief, a few tears and some laughter."
Source: Huffington Post | Comments (2)
Tags: Unicorn