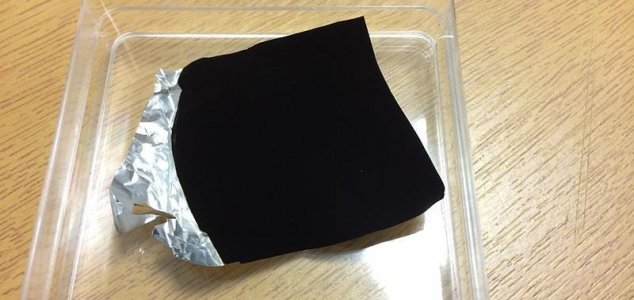 Just how black is it possible for something to be ?

Image Credit: CC BY-SA 3.0 Surrey NanoSystems
Known as Vantablack, the extremely dark material was invented by a team of British researchers in 2014.
The material, which is so dark that looking at it is like staring in to an abyss of infinite nothingness, has now been made even darker thanks to the continued efforts of Surrey NanoSystems, a company that specializes in the production of nanomaterials at low temperatures.
The original incarnation of Vantablack was dark enough to absorb all but 0.035 percent of visible light meaning that to the naked eye it barely registered as a physical material at all.
The new version of the material however is now so completely and utterly dark that there is no spectrometer on Earth that can accurately measure exactly how much light it absorbs.
Originally developed to enhance the performance of sensitive electro-optical imaging systems in satellites, Vantablack is made up of millions of tiny carbon nanotubes which are each 3,500 times smaller than the diameter of a human hair.
Light hitting the material enters in to the gaps between the nanotubes and bounces back and forth between them, unable to escape.
"Even running a high power laser pointer across it barely reflects anything back to the viewer," the team explained. "We have never before made a material so 'black' that it can't be picked up on our spectrometers in the infrared."
Source: Science Alert | Comments (17)
Tags: Vantablack