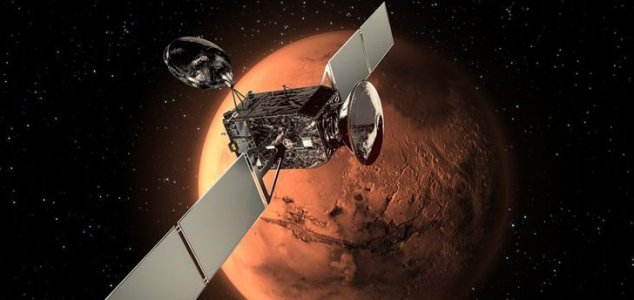 After the probe lands, the orbiter will continue to analyze the Martian atmosphere.

Image Credit: ESA
The ExoMars Trace Gas Orbiter (TGO) successfully launched from Baikonur in Kazakhstan this morning.
The first of two ExoMars missions, the probe will arrive in orbit around the Red Planet in October where its lander, Schiaparelli, will detach and head down to the Martian surface.
As it descends it will reach a top speed of 21,000km/h and will use a combination of a heatshield, a parachute and a cushion of crushable material on its underside to help it survive the landing.
The main goal of the mission will be to detect and analyze traces of methane in the planet's atmosphere, a gas that could indicate the presence of microbial life.
Scientists will be particularly excited if the methane on Mars is found to be laced with the isotope carbon-12 as this would suggest that its origins are biological, rather than geological.
"This is a series of missions that's trying to address one of the fundamental questions in science: is there life anywhere else besides the Earth ?" said planetary scientist Dr Peter Grindrod.
"Finding that life exists elsewhere in the solar system would be a huge discovery, so the evidence has to be strong. As they say, extraordinary claims require extraordinary evidence."
Source: BBC News | Comments (18)
Tags: ExoMars