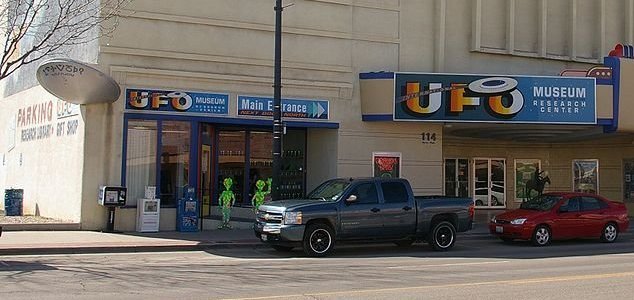 The museum is a popular visitor attraction in Roswell, New Mexico.

Image Credit: PD - J Dykstra
The model craft was loaded on to a truck by thieves last Saturday before being dumped in nearby woods.
The saucer, which was once embedded in the exterior wall of the International UFO Museum and Research Center, was stolen last week not long after being repaired following a storm.
Surveillance camera footage showed the craft being loaded on to the back of a truck by three men.
When New Mexico authorities finally found the model it turned out that the perpetrators had broken it in to pieces and left it dumped in the middle of nowhere.
"We're sad, we thought maybe we would get it back in one piece but doesn't look like it; its in several pieces," said the museum's interim director Karen Jarmaillio.
It still isn't clear who the thieves were or what they were hoping to achieve by stealing the model.
On the plus side, the museum is planning to replace the saucer with a new one in the near future.
Source: UPI.com | Comments (11)
Tags: Roswell, UFO