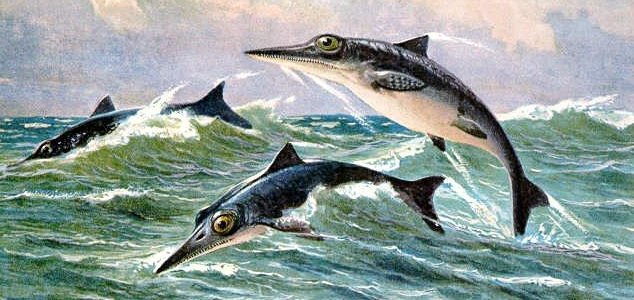 The new discovery has turned out to be quite unique.

Image Credit: Heinrich Harder
The prehistoric aquatic reptile fossil, which was found in a quarry, dates back over 200 million years.
Identified by paleontologist Dean Lomax from the University of Manchester, the fossil belongs to one of only a few known ichthyosaur species to have lived in Earth's oceans during the early Jurassic.
Discovered within a quarry in Nottinghamshire over 60 years ago, the fossil remains of this prehistoric dolphin-like creature, which were initially thought to belong to a previously known species, were found to be relatively complete despite being scattered haphazardly across the excavation site.
It wasn't until the fossil was spotted by Lomax during a recent visit to Leicester's New Walk Museum that its significance as a totally new species of ichthyosaur was realized.
"When I first saw this specimen, I knew it was unusual," said Lomax. "It displays features in the bones – especially in the coracoid (part of the pectoral girdle) – that I had not seen before in Jurassic ichthyosaurs anywhere in the world."
The species has been named
Wahlisaurus massarae
and is the first new genus of ichthyosaur from the early Jurassic to have been discovered in Britain in more than three decades.
Source: RedOrbit | Comments (4)
Similar stories based on this topic:
Tags: Ichthyosaur