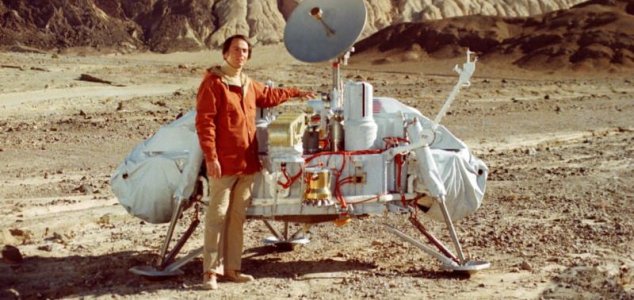 Legendary astrophysicist Carl Sagan with a model of the Viking lander.

Image Credit: NASA / JPL
The data recorded during the historic Viking Mars missions is set to be archived in digital form.
With Curiosity still trundling around on the Martian surface and with another follow-up rover due to be launched within the next few years, it's easy to forget that it hasn't been that long since the idea of landing a spacecraft on the surface of Mars seemed like little more than science fiction.
NASA first accomplished this feat with its Viking landers - two ambitious robotic probes that not only succeeded in landing on the surface but even attempted to search for evidence of alien life.
One of their experiments, which aimed to find organic molecules by mixing water and nutrients with samples of the Martian soil, had initially returned promising results, but after an extensive analysis of the findings it was eventually determined that the result was most likely a false positive.
Now the data from these experiments and more is set to become available for anyone to view thanks to a new project designed to digitize the microfilm reels used to store the mission data.
"I remember getting to hold the microfilm in my hand for the first time and thinking, 'We did this incredible experiment and this is it, this is all that's left,'" said David Williams of NASA's Space Science Data Coordinated Archive.
"If something were to happen to it, we would lose it forever. I couldn't just give someone the microfilm to borrow because that's all there was."
Source: Gizmodo | Comments (21)
Similar stories based on this topic:
Tags: NASA, Mars, Viking