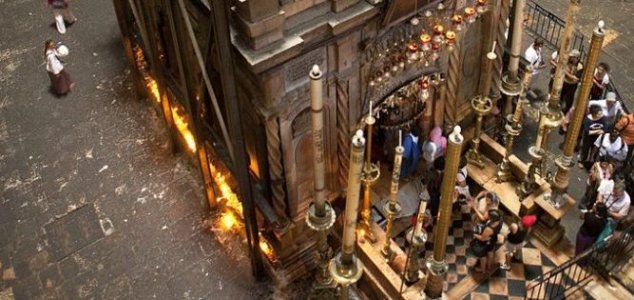 Visitors enter the Edicule to visit the 'burial bed' of Jesus.

Image Credit: CC BY 2.0 israeltourism
The marble that encased the stone slab has been removed for the first time in almost five centuries.
Believed to be the 'burial bed' on which Christ's body was laid following his crucifixion, the stone shelf is situated in the Church of the Holy Sepulchre in Jerusalem and is enclosed within a structure known as the Edicule which was constructed in 1808 after the previous one was destroyed in a fire.
The last time the slab's marble casing had been lifted up was all the way back in 1555.
"We were surprised by the amount of fill material beneath it," said archaeologist Fredrik Hiebert. "It will be a long scientific analysis, but we will finally be able to see the original rock surface on which, according to tradition, the body of Christ was laid."
The lifting of the slab, which is being undertaken as part of restoration work within the church, is being filmed as part of a new National Geographic documentary.
"We are at the critical moment for rehabilitating the Edicule," said Chief Scientific Supervisor Antonia Moropoulu from the National Technical University of Athens.
"The techniques we're using to document this unique monument will enable the world to study our findings as if they themselves were in the tomb of Christ."
Source: Stuff.co.nz | Comments (33)
Similar stories based on this topic:
Tags: Jesus, Jerusalem