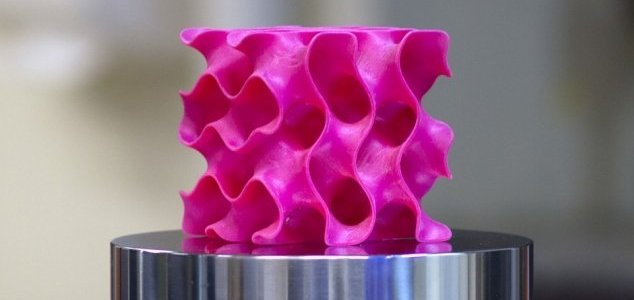 A 3D printed example of the new material's geometric configuration.

Image Credit: Melanie Gonick / MIT
A team of researchers at MIT have designed a new super-strong and lightweight 3D form of graphene.
The two-dimensional form of graphene is widely considered to be one of the strongest materials known to science, but turning it in to a strong and lightweight three-dimensional material has long proven to be a challenge.
Now though, scientists at the Massachusetts Institute of Technology may have finally found the answer in the form of a new sponge-like material that possesses ten times the strength of steel despite being only five percent as dense.
Crucially however its strength appears to have more to do with its unique geometric configuration than the material from which it is made, meaning that it may also be possible to create other strong and lightweight materials without even having to use graphene.
The research, which was published in the journal
Science Advances
, is outlined in the video below.
Source: MIT | Comments (8)
Tags: Graphene