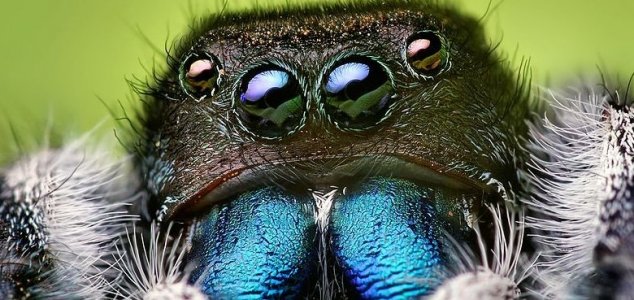 Some spiders are a striking blue color.

Image Credit: CC BY-SA 3.0 Opoterser
The unusual hue of certain tarantulas has been helping scientists develop vibrant new 3D-printed colors.
Unlike animals which appear blue due to iridescence, blue tarantulas have been found to get their color, not from pigmentation, but from tiny nanostructures in their hairs.
Intriguingly, several different species of spider appear to have developed this color independently.
"Different types of nanostructures all evolved to produce the same 'blue' across distant branches of the tarantula family tree," said study lead author Bor-Kai (Bill) Hsiung.
"In other words, natural selection has led to convergent evolution."
The findings challenge the idea that such vibrant, structural colors in nature are always iridescent and have prompted new research in to reproducing such colors using 3D printing technology.
"The iridescence is the key obstacle to use structural colors in our daily life," said Hsiung. "This observation inspired us to look into the mechanisms behind it and try to recreate this phenomenon."
The result of this research was a new 3D printed color that can be viewed across 160 degrees - meaning that it remains clear and vibrant from just about every angle.
Applications for this technology range from coloring plastics to improving TV viewing angles.
"Our next step is to prove that it can be mass produced in an economically viable way, and bring it one step closer to the market," said Hsiung.
Source: Seeker.com | Comments (2)
Tags: Tarantula, Spider, 3D Printing